Queen's MBA team mines for "Green Gold" at Carnegie Mellon venture competition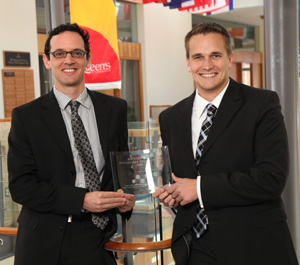 Queen's MBA students, Ben Reynolds and Adam Grahn, were second place finishers in the Sustainable Technology Track at the 2009 McGinnis Venture Competition at Carnegie Mellon's Tepper School of Business.  The McGinnis Venture Competition revolves around emerging industries such as information technology, biotechnology, sustainable technology, robotics, nanotechnology and telecommunications. Participation from top business schools from across the US and internationally included teams from Lund University (Sweden), Dartmouth College, and Boston University.
Ben and Adam's venture, Green Gold, will rehabilitate mine tailings from abandoned gold mines as many of these tailings are contaminated with toxic wastes that have a terrible impact on the local environment. Green Gold will bid on government contracts to clean up the tailings by processing them and removing the metals to rehabilitate the mine sites.
Other top five finishes by this team were at the University of Nebraska's New Ventures World Competition where they placed fourth behind University of Louisville, MIT and the University of Texas. To view Green Gold's presentation at the McGinnis competition click here.