Queen's MBA Forté Fellows network at exclusive career-building event in New York City
Posted on August 12, 2009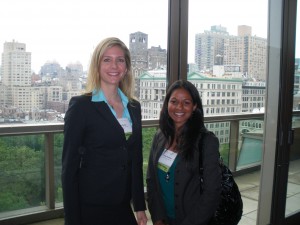 Two Queen's MBA students recently attended the invitation-only annual Forté MBA Women's Conference in New York City. Erin Ayres and Priya Pandian, both MBA'10s and recipients of this year's Forté Fellow scholarship, and hundreds of other delegates convened to network, seek career development opportunities and examine the issue of women in business leadership.
Queen's School of Business is the only Canadian business school member of the Forté Foundation, an organization committed to increasing the number of women in business leadership positions.
The focus of this year's conference was reinventing, reinvesting, and realizing career development and success. Throughout the two-day event business leaders shared experiences through interactive sessions, including the keynote with two of America's most accomplished businesswomen: Liz Smith, president of Avon Products Inc. and Cece Sutton, president of the Retail Banking Group for Morgan Stanley. Their enlightening dialogue on making effective decisions, leading during challenging times and looking toward the future was moderated by Pattie Sellers, editor-at-large of Fortune magazine.
The conference also included skill-building workshops for MBA students on quantitative abilities, case study methods, communications and soft skills.
In addition to the financial support provided by their fellowship, Forté Fellows have exclusive access to select Forté events and online resources, mentoring by Forté representatives, an international network of fellow MBA students, and inclusion in the Forté-specific resumé which is distributed each fall to Forté member companies.
With an international membership that includes progressive companies, world-class business schools and exceptional women leaders, the Forté Foundation is dedicated to directing women towards business education and supporting them as they reach for their career goals.
For more information visit http://www.fortefoundation.org/site/PageServer