QSB Research Excellence Awards Announced
Posted on December 4, 2009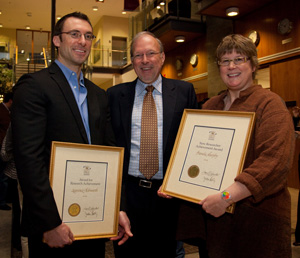 For one Queen's School of Business (QSB) scholar, consumers' reaction to perceived mistreatment is a source of great fascination. For another, it is the psychological aspect of fraud that keeps the research fires burning.
The questions they ask may differ but what Professors Laurence Ashworth and Pamela Murphy do share is a passion for business research and a special honour from their Queen's peers. At a ceremony held December 2, Professor Ashworth received QSB's 2009 Award for Research Achievement, while Professor Murphy took home the School's 2009 New Researcher Achievement Award.
Professor Ashworth discovered different routes by which unfair treatment can have a strong impact on a consumer's self esteem. "I found fairness intrinsically interesting, partly because most people have the experience of being treated unfairly by stores. What always got me was the strength of those reactions, the feelings of injustice inspired even in trivial cases. I wanted to figure out what was going on."
Professor Ashworth was appointed Assistant Professor of Queen's School of Business in 2003. He has published in a variety of publications, including the Journal of Consumer Research, the Journal of Marketing, the Journal of the Academy of Marketing Science, the Journal of Consumer Psychology, and the Journal of Business Ethics, and has presented his findings at more than 20 refereed conferences.
Professor Murphy is a fitting recipient of the QSB's New Researcher Achievement Award, which recognizes a pre-tenured faculty member's research contribution. Her research, which grew from her involvement in the business world, as an auditor, controller, marketing manager, and management consultant is focused on identifying how people rationalize unethical behaviour.
Professor Murphy runs experiments with students in networked computer labs to show the role rationalization plays in committing fraud. "I love getting people into experiments and looking at what they do," she says. "Humans truly fascinate me and they rarely do everything I think they will. That's what keeps us going as researchers."
Professor Murphy came to QSB in 2007, following the completion of her PhD at the University of Wisconsin-Madison. Her work has been published in Contemporary Accounting Research and Journal of Business Ethics, top journals in their fields.
The award program is administered by an ad hoc committee of QSB professors who consider the research achievements of their peers. In addition to the recognition, recipients receive grants to support their research and facilitate its dissemination into journals and other quality publications.