New Executive-in-Residence shares Energy Outlook to 2030
Posted on October 5, 2009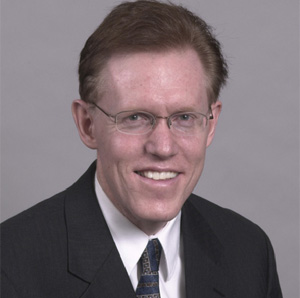 Sharing his deep knowledge of the energy industry through his research and management roles, QSB's newest Executive-in-Residence Hugh Helferty recently spoke to an audience of faculty, students and staff about the global energy outlook. With data spanning a 50 year period to 2030, Dr. Helferty reviewed the projected worldwide population growth, the resulting growing demand for energy, and the corresponding increase in greenhouse gas emissions. He discussed how energy demands are being met today and how this will change over time. He then touched on the challenge of developing technological breakthroughs to meet energy demands while reducing greenhouse gas emissions.
As Executive-in-Residence, Dr. Helferty will offer his expertise as he connects with the QSB community in a variety of ways, such as speaking in classes and at conferences, collaborating on research projects, and advising students on career opportunities.
Dr. Helferty is Products Research and Technology Manager for ExxonMobil Research and Engineering Company.  He received his BSc in Chemistry from Queen's in 1977 and his PhD from the University of Toronto in 1981. He returned to earn his MBA at Queen's in 1985 after spending several years in research with Imperial Oil (Exxon's affiliate in Canada) in Sarnia, Ontario.
Dr. Helferty assumed his current position in March 2005.  In this capacity, he leads ExxonMobil's Products Research & Technology organization headquartered in Paulsboro, NJ, and is responsible for the Paulsboro Technical Center; the TonenGeneral Research Center in Japan; and the Sarnia Research Center in Ontario.  In addition to his organizational responsibilities, he sponsors the Paulsboro Women's Network, the Introduce A Girl to Engineering and Science Ambassador programs, and annual sitewide United Way Campaigns.
Hugh currently serves on the Board of Directors of the United Way of Gloucester County, NJ. Previously, he was on the Board of the Louisiana Arts and Sciences Museum in Baton Rouge, LA.  He has also served as a member of the American Petroleum Institute's Technology Committee and on the Board of Directors of the Coordinating Research Council.