Kingston Ventures Study Tour gives Queen's MBAs local perspective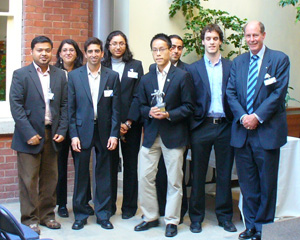 The Queen's full-time MBA Class of 2010 was in full swing on June 4, learning to fine tune their pitching skills during the 8th annual Kingston Ventures Study Tour (KVST).
Each year, KVST offers the incoming MBA class the opportunity to study small and medium sized businesses in the Kingston area. The event provides great exposure for local businesses and helps generate ideas about career direction for students. The tour provides students with an authentic insight into the real-life challenges faced by SMEs in Canada.
MBA teams are assigned three Kingston companies to visit throughout the day where they have the opportunity to ask questions about the nature and scope of the business.  At the end of the day, each team creates a 90 second elevator pitch about one company that they present to a panel of judges at the end of the day. During the reception, presentations are done in front of representatives from the respective companies, other local businesses, community and School of Business representatives and a panel of judges.
The winning team is chosen by how strong their pitch is in increasing the judges' knowledge about the company and its service or products.
Yuzhi Wang was the designated pitcher for this year's winning team which included Sally Arshi, Jean-Rene Carle-Mossdorf, Neeraj Kaushal, Hasan Mujtaba, Riyaz Nathwani and Runnu Sinha. Wang's team pitched Dunne & Associates, a technology consulting group whose specialty is interactive software and related electronic hardware for medical systems, including neurofeedback systems.
This year's judging panel included David Dodge, Senior Advisor Bennett Jones LLP and Chancellor of Queen's University; John Molloy, CEO, PARTEQ Innovations; Dorothy Hector, Kingston City Councillor; and Charlie Reid, founder and President of Charlie Reid & Associates Strategic Manufacturing Solutions Inc.