Ethical Leadership Explored at 5th Annual CSR Weekend
Posted on November 19, 2009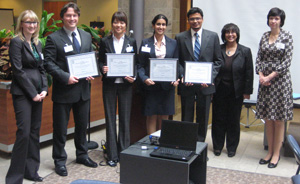 Business ethics and corporate social responsibility took centre stage at the 5th CSR Weekend presented by the Centre for Responsible Leadership from October 29-31. The annual QSB event, held at Goodes Hall, is designed to expose Commerce students to the issues and strategies behind socially responsible decision-making with a unique curriculum delivered through lectures, simulation exercises and a several case competitions. An exciting addition to this year's event was the 1st Annual MBA Case Competition & CSR Day.
The weekend began with opening remarks from Dr. Tina Dacin, Director of the Centre for Responsible Leadership, and featured a keynote address from Chuck Gallagher, a former Certified Public Accountant (CPA) and corporate executive who was convicted of tax evasion and embezzlement. Mr. Gallagher's powerful address touched on the difficult consequences resulting from his personal choices and the ramifications of unethical behaviour in the workplace.
The judging panel for the case competitions was comprised of industry representatives from companies such as Molson and Nexen, both leaders in the corporate social responsibility movement and event sponsors, Telus, Grand & Toy, Tim Horton's Inc. and the Community Foundation for Kingston & Area.
Judge Paul Klein, president of Impakt Corporation, a Toronto-based company that helps corporations increase the returns on their community investments, noted on his blog on canadianbusiness.com:  "The judges were very impressed by the degree to which the teams understood the still-emerging discipline of corporate social responsibility, recognized the challenges for corporations with oil sands operations, and had developed creative approaches to help mitigate environmental impact and maximize business value."
Queen's Commerce students have the option to earn a certificate in Corporate Social Responsibility during their four years of study. Full participation in three annual CSR weekend events is one key component needed to earn the certificate.
The CSR Weekend closed with the much anticipated announcement of the case competition winning teams, who received donations ranging from $1,000 to $3,000 for their charity of choice courtesy of event sponsor Nexen. A total of $13,000 was given to ten charities.
To read more about the CSR weekend, visit Commerce student Sheila Pan's blog posting.