Wall Street insider Bill Bamber speaks at QSB events
Posted on October 20, 2008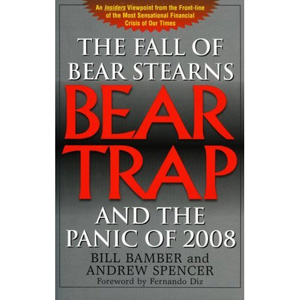 A first-hand witness to the carnage on Wall Street, Bill Bamber, Queen's MBA'94 alum and co-author of "Bear Trap: The Fall of Bear Stearns and the Panic of 2008," will present an evening of stimulating discussion and narrative at QSB events across Canada and in New York.
Speaking first at Toronto's National Club on October 20 and then at QSB's Goodes Hall in Kingston on October 21, Bamber will provide an insider's view of what happened at Bear Stearn's that led to the most sensational financial crisis of our times.
He will reprise his presentation at other Queen's Business Club events for alumni in Vancouver, Calgary, Montreal and New York later this fall.
Bamber was a Senior Managing Director at Bear, Stearns & Co. when the 85-year old firm began its sudden death spiral in early 2008. Originally promoted as an anonymous publication, news of Bamber's book — and authorship — broke in September 2008 on Fox News. Since then he has shared his story with many international media outlets, including an appearance on Canada AM on October 20.
Both evenings with Bamber will be moderated by QSB Finance Professor Louis Gagnon, who has been highly sought after by the national news media as a spokesperson on the current financial crisis. Read more about Professor Gagnon's perspective on the crisis in the most recent issue of Queen's Leader's Forum.
All members of the QSB community are invited to attend the events (details below). Come and find out why Bamber's book is being heralded as "extraordinary!"
Monday, Oct. 20, 2008
TIME: 6:00 p.m. reception, 6:45 p.m. presentation, 8:00 p.m. reception resumes
COST: $30. Guests must be registered by a QSB alumni host. Walk-ins welcome.
LOCATION: The National Club, Toronto
Tuesday, Oct. 21, 2008
TIME: 6:00 – 7:30 p.m.
LOCATION: Goodes Hall Atrium