Queen's students continue stellar performance on Chartered Accountant Exams
Posted on February 28, 2008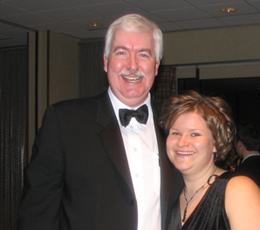 Three year pass rate unprecedented in Canada
Queen's School of Business (QSB) graduates gathered at the Harbour Castle Westin in Toronto on February 23 to celebrate their success on the annual Chartered Accountants' Uniform Evaluation (UFE) exam at a special reception hosted by the School. The country's newest CAs were also in town for the Institute of Chartered Accountants of Ontario Annual Convocation ceremony.
Over the last three years, Queen's graduates have achieved a 92 percent pass rate on the exam — which is unprecedented in Canada. This year, Queen's Bachelor of Commerce graduates achieved a pass rate of 88 percent for first time examination writers — exceeding the Ontario average of 74 percent.
"We are very proud of our students continued success in their professional exams," said Queen's accounting Professor Salterio. "The School's broad-based managerial course of study combined with a focus on accounting, auditing and tax issues and incredibly bright and hard working young people, can be credited for Queen's grad's high UFE pass rates.
"Queen's Krista Hapke (BCom'06), was one of seventeen Ontario students named to the National UFE Honour Roll. The National Honour role is comprised of the top 50, out of almost 3,300, writers of the CA examination in Canada. Krista is the eighth Queen's student in the last four years to be awarded this honour.
"More than five percent of Queen's Commerce graduates who take the CA exam and pass end up on the National Honour Roll, despite the fact that our grads make up less than two percent of all writers," said Professor Salterio.The UFE is a three-day, national examination administered the Canada's Chartered Accountants that qualifies university graduates for their chartered accountant (CA) designation after completing their term of service with a public accounting firm.