Queen's MBA team scores top marks in exclusive international leadership competition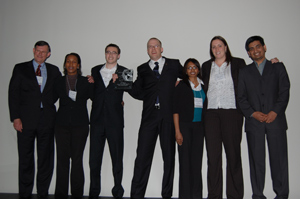 Six students from Queen's School of Business MBA program demonstrated their superior leadership knowledge and skills at the inaugural Global Business Leadership Competition hosted by UCLA Anderson. The team took second place — and a $10,000 prize — in an event that included the Chicago Graduate School of Business, Said School of Business at Oxford University and the University of California's Marshall School of Business.
The Queen's MBA team was one of sixteen top-tier international business schools participating in an invitation only competition in Los Angeles, CA. Over the course of the two-day event, teams presented on several real-life cases, culminating with the competition's main case: FedEx Corporation's acquisition of Flying Tigers, a cargo airline in Asia.
"The Queen's MBA team was outstanding — raising their game continuously throughout the three separate events and the final round," said Dr. Scott Carson, Director, Queen's MBA and Professor of Strategy. "I am delighted with the results and very proud of our students' hard work and preparation for this intense competition."
Representing Queen's School of Business was Sanyu Kiruluta, Dennis Kondratev, Arndt Brettschneider, Baanu Ratneswaran, Logan Dunning and Ram Annasami, all full-time MBA students set to graduate at the end of May.
First place and the grand prize of $25,000 went to London Business School, while Seoul National University took home the $5,000 third prize. Participants also heard from keynote speakers Mark Zoradi, president of Walt Disney Studios Motion Pictures Group and Peggy Tsiang Cherng, Co-Chair, Panda Restaurant Group, Inc.