Queen's MBA student sweeps business plan competitions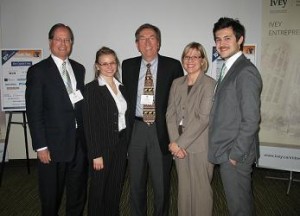 Queen's MBA student Michele Romanow and two Queen's University undergrads have taken home more than $67,000 in cash prizes from competitions for their business plan on the caviar market.
The Romanov Caviar team comprised of full-time MBA student Michele Romanow and Anatoliy Melnichuk (Sci '07, ArtSci '08) and Ryan Marien (Sci '08, ArtSci '08) has impressed judges at competitions across North America. Recent first-place wins include a $15,000 prize at Queen's Entrepreneurs Competition in Kingston, Ontario; $10,000 at the Northwest Venture Challenge Championship, in Boise, Idaho; $7,000 at the New Ventures World Competition at the University of Nebraska; and $10,000 for second-place at the Stuart Clark Venture Challenge at the University of Manitoba.
And thanks to their most recent win at the IBK Capital-Ivey Business Plan Competition, the team qualified for the prestigious Global MOOT Corp. Business Plan Competition at the University of Texas at Austin and a chance to compete for the top prize of $100,000. The competition runs from April 30 – May 3, 2008.