Professor Rick Jackson Receives Frank Knox Award for Excellence in Teaching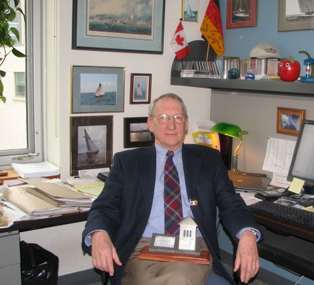 April 7, 2008
Organizational Behaviour Professor Rick Jackson was presented with the Frank Knox Award for Excellence in Teaching by the Alma Mater Society of Queen's University last week. The campus-wide award is the highest honour given to professors from their own students.
Named for Frank Knox, a dedicated Professor of Economics who taught at Queen's for forty years, the award honours professors who have demonstrated an outstanding commitment to the education of students through their teaching excellence.
Professor Jackson, who is in his final year of teaching at Queen's School of Business, said this was a "wonderful retirement gift."
Established by the AMS in 1988, the Frank Knox Award honours two professors each year, one for each term. For 2008, English Professor Robert Morrison was the fall term recipient and Professor Jackson, also a Commerce '64 Faculty Teaching Fellow in Organizational Behaviour, the winter term recipient. Twenty-three professors were nominated for the award in 2008.
In 2006, Professor Jackson was awarded the Queen's University Alumni Affairs Award for Teaching Excellence, Queen's Alumni Association's highest teaching honour.