In Memoriam: Professor Dan Monieson
Posted on September 22, 2008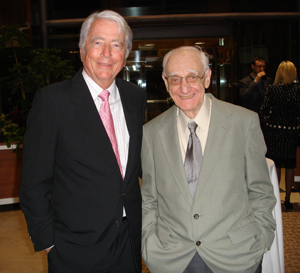 September 22, 2008 — Queen's flags are at half mast to remember Dan Monieson, Professor Emeritus of Marketing at the School of Business, who passed away peacefully on September 20.
Professor Monieson joined the Marketing Department at Queen's School of Business in 1961 and quickly became a powerful influence on the lives of his students and colleagues over the next three decades. Renowned as an outstanding teacher, he twice won the Queen's Commerce Society's Teaching Excellence award.
"For thirty years, Danny was an inspiring teacher, researcher and mentor — and a tireless goodwill ambassador for Queen's School of Business," said David Saunders, Dean. "He will be missed."
Last November, friends and former students traveled to Kingston from as far afield as BC's Salt Spring Island and Florida to attend a tribute to Professor Monieson, held on his 80th birthday. In a memory book presented to Professor Monieson that evening, Ian Friendly, BCom'83, QSB Advisory Board member, EVP and COO of General Mills said, "[He was] a professor of immense talent, who cared passionately about his students and their minds. He made a real difference in many of our lives, and I suppose that is the greatest compliment that can be paid to any educator and person."
In 1999, thanks to a generous gift from Mel Goodes, BCom'57, LLD'94, and the leadership of Professor Monieson, QSB established the Monieson Centre, a research-based centre designed to help organizations harness and enhance their knowledge capital.
On September 23, the Monieson Centre will hold an Open House in Goodes Hall for the QSB community to pay tribute to Professor Monieson.
Memorial donations can be made to the Heart and Stroke Foundation or the University Hospitals Kingston Foundation. To donate to the Danny Monieson scholarships, please contact Tina Bailey at tbailey@business.queensu.ca.