Queen's School of Business Hosts 26th Annual Business Forecast Lunch
Posted on December 6, 2007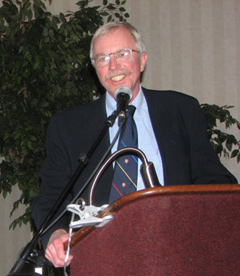 Faculty experts present economic predictions for year ahead
KINGSTON, ON – Queen's School of Business professors made their economic predictions for 2008 at the 26th annual Business Forecast Lunch today in Kingston, Ontario. An expert panel of faculty presented the economy's prospects with a focus on their own particular expertise, including a review of the 2007 forecast.
Overall, 2008 looks promising: the real GDP growth rate is expected to rise, inflation and interest rates should drop marginally and the Canadian dollar should stay on par with the U.S. Conversely, unemployment rates will continue to rise, with Kingston falling above the national average. A summary of the panel's specific forecast is included below.
Attendees, largely from the Kingston business community, also contributed to the day's predictions through a sentiment survey on the local and national economies. Results show that 85% of respondents feel that current business conditions in their firm are good or very good, while 82% feel that business prospects for their firm in the upcoming year will be good or very good. When it comes to the national scene, respondents' views were less optimistic — only 62% rated current overall Canadian conditions good or very good, while 67% gave prospective Canadian conditions a good or very good rating.
"The survey results are encouraging for the local economy," said Business Forecast Lunch moderator and Professor of Finance Lew Johnson. "They also show that Kingston is insulated from much of the economic turmoil in the rest of the country."
Macroeconomic outlook
Professor Johnson reported on the macroeconomic outlook, touching on issues such as the credit crunch; the growing U.S. trade, budget and social services deficits; and continuing energy price volatility.
He sees three key things to look for over the next year. Many of the sub-prime mortgage loans in the U.S. were initiated with very low interest rates, as an inducement to get poorer people to borrow, and these loans came with automatic rate reset provisions at much higher rates. A large number of these adjustable rate mortgages have their reset dates in January through March of 2008, which should lead to a significant increase in bankruptcies and further disruption in credit markets. Markets should have stabilized by the end of 2008.
The concern with the U.S. budgetary situation is heightened by the fact that China, which holds a large proportion of U.S. government debt, is diversifying its foreign exchange holdings into euros and gold. Meanwhile, continuing global geopolitical uncertainty and the plan by the Alberta government to increase the royalty structure will cause further volatility in energy markets.
"Kingston is relatively insulated from many of these concerns given its small manufacturing base and stable population, but tourism will continue to suffer as long as the dollar remains high," said Professor Johnson. "That said, these negative effects may be offset by the likely spill-over from Fort Henry's new World Heritage designation."
Financial markets
From a financial markets perspective, Finance Professor Lynnette Purda reported that growth in 2008 will still be strong but slightly lower than what we have seen in 2007 as a result of the increasing dollar and tightness in credit markets. Inflation will still be within the Bank of Canada's target rate of 1 – 3%, but will be slightly higher than in previous years as inflation concerns take a back seat to liquidity concerns in the credit markets.
After significant activity by central banks in the summer, most are holding tight, keeping interest rates steady, in order to assess the impact of their previous actions. Few significant changes in interest rates are expected. And finally, export oriented businesses must be flexible and continue to seek non-North American markets to reduce the impact of the strong dollar.
National/International outlook
From a managerial perspective, 2008 introduces some new challenges to the day-to-day work of Canadian business leaders reported Professor of Strategy Douglas Reid. Innovation-related organic growth rates have remained essentially flat, so most business growth has occurred due to acquisition or the assertion of pricing power. As the escalating intensity of competition, made possible partly by the rise in the Canadian dollar, have created a cap on the ability of companies to demand and obtain price increases, additional attention will be given to innovation-driven organic growth.
"No longer can Canadian companies buy sales increases on the strength of their balance sheets," said Professor Reid.
As the Canadian and U.S. dollars hover at par, Canadian manufacturers are experiencing tremendous pressure to be export-competitive. According to Professor Reid's own research, depending on the sector of the economy under consideration, internationalization is associated with performance improvement. Defensive internationalization means deemphasizing the United States as a market for sales and treating it instead as a market for more cost effective inputs.
"Canadian companies that can internationalize beyond the U.S., should," said Professor Reid.
In dealing with governments, business leaders should consider carefully an undervalued stream of research that suggests infrastructure quality correlates strongly to choice of location. "Every pothole or bumpy road is vivid counterevidence that a community offers a good quality of life," he added.
Local economic outlook
Kingston's economy is overwhelmingly reliant on major public sector projects, which are not a source of sustainable prosperity, reported Marketing Professor Ken Wong, another veteran panelist. Manufacturing is significantly in decline and the tax base is almost 80% residential. This comes at a time when social, recreational and cultural programs require additional funding. Tax increases are inevitable.
"The bottom line is that 2008 will be a critical year in this city's future with many hard decisions to be made," said Professor Wong.
While Kingston's 2007 economic performance and 2008 forecast are not bad on an absolute measure, they show Kingston to be losing ground relative to other Canadian cities. This continues a long term trend. Reversing this trend will not be a short term project and will require continued spending to make Kingston an attractive location for businesses.
The city's weak relative performance is a major reason why population growth was negative in 2007, reflecting the continuation of a long term trend that will severely restrict the city's ability to grow.
Wong believes that if council does not increase funding for infrastructure improvements, restoration projects and much-needed financing for the hospital and police, then Kingston's future is very bleak. "At best, the five and 10 year forecast would be for average growth of about 2%," Wong predicted.
The Business Forecast Lunch was founded 26 years ago by Queen's School of Business professor emeritus Merv Daub to establish an important link between the School and the Kingston business community. Once again, the event, hosted by Dean David Saunders, attracted record attendance.
About Queen's School of Business
Queen's School of Business is one of the world's premier business schools, offering undergraduate and graduate degrees and non-degree executive education programs. Programs include: Queen's full-time MBA, ranked #1 in the world outside the US by BusinessWeek; Queen's-Cornell Executive MBA, Queen's Accelerated MBA for Business Graduates and Queen's Executive MBA offered by videoconference in cities across Canada; Queen's Ottawa Executive MBA; the largest offering of open enrolment executive development programs in the country, ranked in the top 15 by Financial Times (UK); Queen's Bachelor of Commerce, renowned for its rigorous entrance standards; the new Master of Global Management and Master of Management in Accounting; and Queen's MSc and PhD in Management programs, which produce leading researchers for industry and academe.
# # #
View the Business Forecast Lunch presentation
For more information, please contact:
Amber Wallace
Queen's School of Business
613-533-3151 / awallace@business.queensu.ca