Oil Patch Entrepreneur Grant Bartlett Joins Queen's School of Business
Posted on September 18, 2007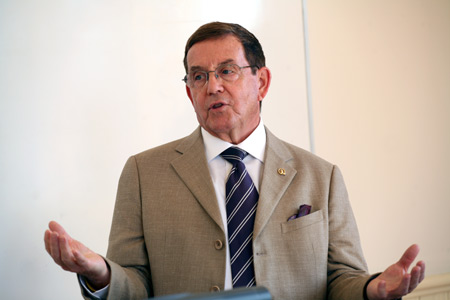 KINGSTON, ON – One of the oil patch's veteran venture businessmen, Grant Bartlett, has joined Queen's School of Business as Entrepreneur-in-Residence, bringing with him a wide range of teaching, research and marketplace experience.
"A great team never stops adding depth to its roster, and that's our approach in bringing Grant Bartlett to Queen's School of Business," said Dean David Saunders. "Grant is a highly experienced and successful entrepreneur from the nation's hottest sector, and a perfect addition to the venturing team at Queen's."
As Entrepreneur-in-Residence, Bartlett will assist students, researchers, public policy makers and other key decision makers who operate in the business venturing arena at Queen's. Bartlett has more than 30 years of oil and gas-related experience in industry, government and academia, most recently as Managing Director of Maken Capital Corp. and President and CEO of Darian Resources Ltd., a private oil and gas exploration and production company operating in Western Canada. From 1970 to 1980, he was a professor in the Department of Geological Sciences at Queen's University.
While at Queen's, Bartlett will be a guest lecturer, serve as a resource to faculty research and participate in a range of conferences and competitions. He will also be an active contributor to the work of the Queen's School of Business Centre for Business Venturing, which is committed to being the definitive source of knowledge and expertise in the creation, leadership and management of new ventures.
As part of his role within the Centre for Business Venturing, Bartlett will be an advisor to the Queen's TriColour Venture Fund that provides capital to real venture companies, chosen in part by current students. Additionally, he will mentor students who have received internships through the business school's innovative Dare to Dream program, which provides critical resources to help recent graduates launch new ventures.
About Queen's School of Business
Queen's School of Business (business.queensu.ca) is one of the world's premier business schools, offering undergraduate and graduate degrees and non-degree executive education programs. Programs include: Queen's full-time MBA, ranked #1 in the world outside the US by BusinessWeek; Queen's-Cornell Executive MBA, Queen's Accelerated MBA for Business Graduates and Queen's Executive MBA offered by videoconference in cities across Canada; Queen's Ottawa Executive MBA; the largest offering of open enrolment executive development programs in the country, ranked in the top 15 by Financial Times (UK) and BusinessWeek; Queen's Bachelor of Commerce, renowned for its rigorous entrance standards; and Queen's MSc and PhD in Management programs, which produce leading researchers for industry and academe.