CARA gives $500,000 to School; unveils lecture theatre
Posted on October 2, 2007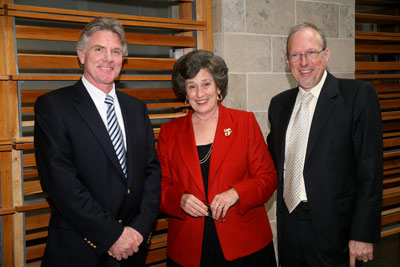 Queen's School of Business today announced a $500,000 gift from CARA. The donation will go towards the expansion of Goodes Hall, and CARA had a lecture theatre named to recognize their gift to the School.
Don Robinson, CEO and President of CARA, Queen's University Principal Karen Hitchcock and QSB Dean David Saunders helped unveil the new CARA Lecture Theatre at a celebration ceremony in Goodes Hall.
CARA also used their time on campus to recruit Queen's students — hosting a company information session at a local CARA-owned Swiss Chalet restaurant followed by individual interviews on campus.
Robinson said the reason Cara donated such a generous gift to Queen's School of Business is simple: The two organizations share a similar philosophy. "Queen's recruits the same way that we do. Queen's Commerce students are not only smart, they're also chosen for their leadership potential and we look to the School as a source of our leaders."