Alumni Services
After graduation, you will join an alumni network that numbers over 20,000 worldwide, and your relationship with Smith School of Business will only continue to grow. You will have access to a number of ways to stay in touch with the School, faculty and fellow alums.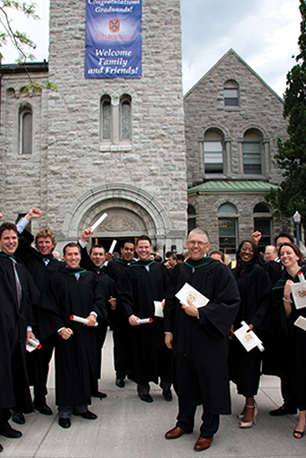 Smith School of Business also provides opportunities for continuous learning and career support. These include:
Access to job opportunities and career support through the Smith School of Business Career Advancement Centree
International opportunities for professional development
The ability to speak to Smith School of Business faculty regarding issues and opportunities you are facing in your career or business, through a service we call Smith's By Your Side™
Thought-provoking white papers and webinars from Smith School of Business faculty
Smith Business Club events in cities across Canada, and in New York, London and Hong Kong that feature relevant guest speakers and provide a great venue for networking
Class reunions and special networking events in cities across Canada
Complimentary subscription to Smith Magazine
As a MBA graduate, you will also become a part of the larger alumni network of Queen's University. With over 166,000 individuals in more than 154 countries, Queen's maintains active alumni branches in many locations around the world.