Faculty
A Faculty That Works As a Team
At Smith School of Business, you will learn from a team of exceptional professors. This team is consistently recognized for both excellent teaching skills and significant experience with senior-level managers in major organizations across Canada and around the world.
An Integrated Academic Plan
Smith School of Business faculty members work together as teachers, researchers, and consultants, and their joint efforts have resulted in a tightly integrated academic plan. Our faculty teach in North America's most popular executive programs, consult for the world's leading organizations and have earned the respect of the business media and business leaders.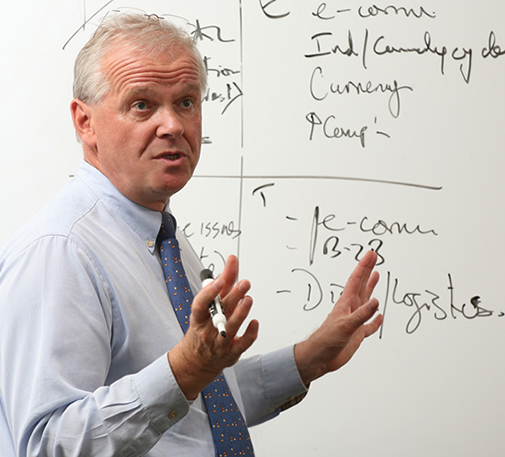 Respected Management Educators
Both BusinessWeek (USA) and Financial Times (UK) have recognized Queen's University faculty as being among the top executive educators in the world. Smith School of Business professors have earned recognition from the Canadian media - including the Financial Post and Maclean's - for teaching excellence.
In Touch With The Business Community
Smith's Executive MBA professors have frequent contact with the business community. Most have extensive rosters of private- and public-sector clients located in Canada and around the world. The faculty includes some of Canada's leading experts in the fields of marketing, accounting, strategy, leadership, corporate turnarounds and alliances. They are also best-selling business authors and groundbreaking researchers. Years of working with senior-level executives have given our faculty the ability to bring modern management practices into the classroom.
Faculty Members
Dr. Bill Blake – Organizational Behaviour
Bill Blake is the former Associate Dean of MBA Programs at Smith School of Business.  His research and teaching interests are leadership and the relationship between cultural adaptability and international effectiveness.  He is extensively involved in executive education. He has served on the boards of directors of Fishery Products International, Homestead Land Holdings and the national network of International Business Schools.  From 1992 to 2002, he was Dean of Business at Memorial University, and is Past Chair of the Canadian Federation of Business School Deans.

Dr. Marc L. Busch – Global Economy
Marc Busch is an expert on international trade policy and law and author of the book Trade Warriors.  He has been published in numerous journals and is co-editor of the journal Economics & Politics. Marc has received many awards for teaching from Harvard, Queen's University and Columbia University. In 2010, Forbes Magazine named his course, "Business, Government and the Global Economy," to its list of the Top 10 Most Innovative MBA courses in the United States.  He serves as a member of the Industry Trade Advisory Committee on Standards and Technical Trade Barriers (ITAC-16), reporting to the U.S. Department of Commerce and United States Trade Representative. He has addressed a wide variety of governments and international institutions, and consults for many large corporations.
Mr. Paul Chipperton – Strategy, Innovation and Entrepreneurship
Paul Chipperton is an award-winning serial entrepreneur in the Tech industries, and comes with a proven track-record of "start-up" successes, most notably as 2008 co-founder & CEO of Profound Medical Inc., a prostate cancer medical device company. As CEO he raised >$16M of venture capital financing, and the company subsequently went public on the TSX Venture exchange (TSXv:prn) in 2015. A >20-year veteran of entrepreneurial financing, he has raised capital at almost every stage of a company's growth cycle, and sits on a number of boards as an independent director.
For Smith School of Business at Queens, he is a part-time author and lecturer on 4 MBA & BCom courses on the topics of Strategic Innovation, Venture Finance, Entrepreneurship, and Marketing. He currently serves SSB as the Faculty representative on the Senate. He received a BSc in Applied Chemistry from University of Northumbria in the UK, and an MBA from McGill University.
Mr. Barry Cross – Operations Strategy
Barry Cross is an expert and thought leader in innovation, execution and operations strategy. He joined Smith School of Business after nearly 20 years in the automotive and manufacturing sectors with Magna, Autosystems and DuPont, where he led many key strategic initiatives, including nearly 30 program launches in North America, Asia, Latin America and Europe.
Barry speaks and consults widely in the areas of Lean, Innovation, Strategy, Projects and Execution, enabling organizations to create sustainable value for their customers. He is the bestselling author of three books, including Simple: Killing Complexity for a Lean and Agile Organization, and several Most Read articles.
Dr. Tina Dacin – Strategy and Organizational Behaviour
Tina Dacin is Director of the Centre for Social Impact and a Distinguished Faculty Fellow at Smith School of Business.  She specializes in the areas of business ethics, social innovation, strategic alliances and business networks, specifically focusing on the topics of partner selection and collaboration.  Prior to joining Queen's, she spent nine years at Texas A&M University, where she was recognized for both research and teaching excellence.  She has consulted with companies in many industries and has served on the editorial boards of several leading academic journals.

Mr. Michael Darling – Marketing
Michael Darling has an extensive corporate and academic background focused on marketing, strategy, and international business. His career includes marketing research at Gillette, brand management at Schering-Plough, worldwide marketing at Max Factor and senior executive positions at Kellogg's in Canada, Europe and the USA. Prior to joining Queen's, he taught at NYU for eighteen years, receiving the Citibank Excellence in Teaching Award and appearing repeatedly in BusinessWeek's outstanding faculty list. His consulting clients have included AT&T, Lever, Best Foods, Microsoft, Seiko, Sony and Wachovia Bank.
Dr. Jay Handelman – Marketing
Jay Handelman is Associate Dean of Research, Director of the MSc and PhD programs, and Associate Professor of Marketing at Smith School of Business. He has also served as Director of the Centre for Responsible Leadership.  He has conducted extensive research into the ways in which marketers integrate emotional, cultural and social responsibility dimensions into their traditional marketing strategies, and the ways in which these strategies benefit the organization.  He is also an expert on consumer activism and boycotts. His research has been published in several academic journals, including the Journal of Marketing, the Journal of Retailing and the Journal of Business Research.
Dr. Tracy Jenkin – Management Information Systems
Dr. Tracy Jenkin is an Associate Professor at Smith School of Business, where she received her PhD in Management Information Systems. Her research explores innovation and learning in the areas of environmental sustainability and IT (green IT), project management, project alignment, and data mining. She has published in a variety of top journals including Business and Society, Decision Sciences, Information and Organization, Journal of Business Ethics, and Journal of Information Technology.
Dr. Jenkin previously worked in the IT and software industry for ten years in project management and consulting roles. She has worked with a broad range of organizations, such as Accenture, Dell and new venture Trilogy Software, and across a diverse set of industries, including telecom, high-tech, financial services, and commodity chemicals.

Mr. Keith Jensen – Valuation and Corporate Finance
Keith Jensen is a Chartered Accountant (CA) and a Partner at KPMG in Vancouver. He is an expert in Valuation and Corporate Finance services. Keith joined KPMG in 2001 and worked for three years in the Industrial Markets audit practice prior to joining the Valuations and Corporate Finance group in 2004, and earned a Queen's MBA in 2008. He provides advisory services to a number of public and private sector clients including SEC, IFRS and Canadian listed public companies operating in a wide range of industries including mining, forestry, oil & gas services, technology, real-estate, consumer (restaurants, apparel, distribution), private equity and financial institutions. He is a member of the Association for Corporate Growth (ACG) and is a Chartered Business Valuator, and currently sits on the Board of the Canadian Institute of Chartered Business Valuators.

Mr. Michael McIntyre – Governance
Michael McIntyre is an Associate Professor of Finance at the Sprott School of Business. He has taught at the University of Toronto, Queen's University and at Queen's University's International Study Centre at Herstmonceux Castle, U.K.  His research focus is in the areas of governance and financial risk management, specifically, derivative securities and financial mathematics. Michael is a Chartered Accountant by profession and consults for both the public and private sectors. He is a frequent commentator on CBC, CTV, the Globe and Mail, and various other media, and acts as an expert witness in court proceedings involving portfolio formation issues.

Dr. Shawna O'Grady – Human Resources and Team-Building
Shawna O'Grady is an authority on strategic human resources management, team-building, and the cross-cultural aspects of international business. She is an experienced team facilitator who is in high demand for her original approach to team-building.  She is also the author of Border Crossings – Doing Business in the U.S., an award-winning book on international business.  She has consulted with many organizations including Microsoft, MDS, Mattel, Shoppers Drug Mart, Enbridge Consumers Gas, Industry Canada, BMW, Novo Nordisk, Oracle, Xerox, Bell Canada, GlaxoSmithKline, Ministry of Finance, Canada Post Corporation, and TD Canada Trust.

Dr. Bo Pazderka – Business Economics
Bo Pazderka is an authority in the economics of research and development, the multinational pharmaceutical industry, health economics, and the transition of the former centrally planned economies of Central and Eastern Europe to free-market systems. He has worked at universities around the world, including France, Australia, the U.K., and Slovakia. He served on the Board of Directors of Hôtel Dieu Hospital in Kingston, and was for many years a member of its Ethics Committee. He is co-author of several books, including: It's No Gamble - The Economic and Social Benefits of Stock Markets; Approaches to an International Comparison of R&D Expenditures; and Microeconomics: The Canadian Context.

Dr. John Pliniussen – Marketing and Innovation
John Pliniussen is an authority on innovation, sales management and e-marketing. He has worked or consulted for several Fortune 100 companies, some of Canada's fastest growing SMEs, many federal and provincial ministries, and numerous agencies and NPOs. His past clients include IBM, London Life, Torstar, Schindler, GM, Constellation Software, and many federal and provincial ministries.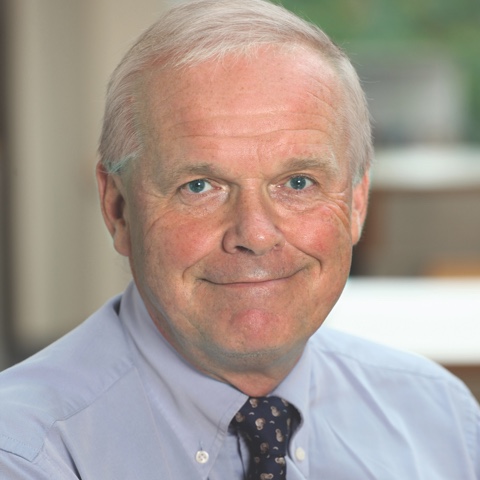 Dr. Peter Richardson – Strategic Management
Peter Richardson is a leading expert in corporate turnarounds and an authority on strategic management and the management of innovation. His strategic approach to cost management and margin improvement has been widely adopted by industry. During his years at Smith School of Business, Peter has authored over 75 papers and case studies on strategic management. With Elspeth Murray, he co-authored Fast Forward: Organizational Change in 100 Days. A previous book, Cost Containment: The Ultimate Strategic Advantage, remains one of the few books to be written on cost improvement. He consults widely for many organizations including BHP Billiton, Alcoa, CIBC Mellon, the Supreme Court of Canada, the Auditor General of Canada, and Natural Resources Canada, working closely with senior executives on strategy development and deployment.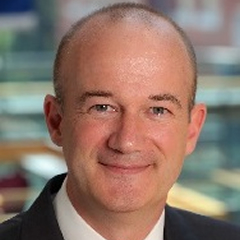 Mr. Blair Robertson – Finance
Blair Robertson was an investment banker for nearly 20 years and has over $100 billion in completed transaction experience.  He has extensive M&A, ECM, DCM and restructuring experience across a broad group of sectors.  He has executed numerous award-winning and notable transactions across the globe and has worked in Asia (15 years) as well as in New York and San Francisco (4 years). 
He is currently the Finance Expert in Residence in Queen's Career Advancement Centre. Mr. Robertson is conversant in Mandarin and Spanish.  

Mr. Daniel Tisch – Leadership
Daniel Tisch is a lecturer on public relations at Queen's University and is widely known as an international public relations practitioner, speaker, writer and industry leader. He is President and CEO of Argyle Communications, a Fellow of the Canadian Public Relations Society, and Chair of the Global Alliance for Public Relations and Communication Management. As a consultant, Dan has earned more than 150 major communications industry awards and advised some of the world's most respected organizations. He has contributed to leading public relations and marketing textbooks and appears regularly in broadcast, print and online media. Dan holds two degrees from Queen's University — a Bachelor of Arts in Political Studies and a Master of Business Administration.
Dr. Selim Topaloglu – Finance
Selim Topaloglu is Associate Professor & RBC Faculty Fellow in Finance at Smith School of Business. His research focuses on the trading behaviour of individuals and institutions, analyst behaviour, insider trading and initial public offerings. Current research topics include: the effects of regulation fair disclosure on institutional and insider trading, the secondary market activity for NASDAQ IPOs, and investor behaviour over the rise and fall of the NASDAQ stock market. 
Mr. Ken Wong – Marketing, Sales and Business Strategy
Ken Wong is one of Canada's most frequently quoted business professors. He has worked with the Strategic Planning Institute at Harvard University and the Conference Board of Canada, and writes a monthly column for Strategy and periodically for Marketing and the National Post. He is a 2006 inductee into the Canadian Marketing Hall of Legends and past winner of the National Post's Leaders in Management Education award. He regularly judges "Canada's Best Managed Companies" and other competitions, addresses and consults with corporations around the world, and sits on a number of advisory/directorship boards