Thank You For Shopping At Sears
And once we decide who 'you' are, we may even survive to sell another day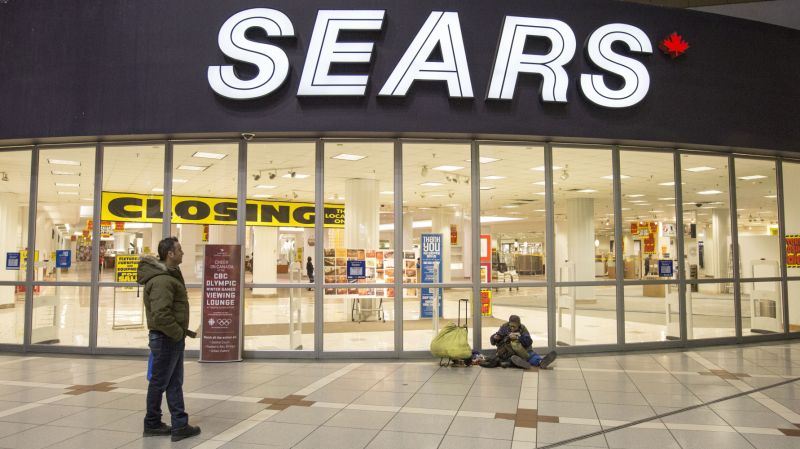 On February 10, 2016, Sears announced the forthcoming closure of 50 of its 'underperforming' stores. The closures would happen 'quickly', the company said in a statement, hoping for asset sales of $300 million as it continues its years-long restructuring and search for a place in the retail market.
Sears' revenues are down almost a billion dollars from this time last year, and its stock price has been halved over the same period.  In the 1970s, it was the world's largest retailer. Today, Sears is a shadow of its former self, in danger of disappearing altogether if leadership does not find a way to restore some of its market appeal. Understanding how the 123-year old retailer got to this stage requires a multi-pronged review, but it boils down to a failure to react to changes in its existing market, including consumer behaviour, competition, and the emergence of technology. Strategy 101, many of you are wisely thinking, yet the losses continue.
The Home Depot, Lowes, and big box retailers have changed the way appliances and hardware are sold. Many former Sears customers now look to Target (in the U.S.) and Walmart for apparel and household goods. Its travel agency business has largely migrated to DIY, either online or with toll-free call centres. Canadian Tire, Walmart, and Pep Boys have hammered its auto service, while furniture sales have also gone big box. Sears now resembles a picked-over carcass in many areas. 
But the lights are still on, which means there remain customers who continue to shop at Sears. What is more, we know who those customers are. When asked who they think shops at Sears, people respond: my parents, the in-laws, or even "old people." Certainly not Millennials or many Gen-X. 
Sears continues to pursue an all-things-to-all-people strategy, which means no one customer group is served well
Can we build a retail business based on a demographic that is aging? I think so. These are the Boomers; there are a lot of them and, to a large extent, they have money. 
Sears, however, continues to pursue an all-things-to-all-people strategy, which means no one customer group is served well. Some recent articles talk about their target segment as being represented by 'Amy', a middle-class woman with children who drives a minivan.  While that is more specific than they have been in years, Sears will have to pull Amy away from Walmart, The Home Depot, Kroger, and Target. Once she is done in those stores, perhaps she'll drive over to Sears.
Could Sears build an operating strategy that supports the customers that come there already? Let's start with what we know about the Boomer customers. With age comes potential mobility issues, corrective lenses, and less inclination to fix or repair things. They are less tech savvy and even intimidated by some technologies such as online shopping and bill payment. This group is also very loyal when treated fairly. There are obviously exceptions, but most people born before 1965 will exhibit at least some age-related afflictions or behaviours.
For me, the foundation of an effective operating strategy is knowing your customer. The more we know our customer, the better we can tailor operations to serve these people well. With that foundation in mind, here are perhaps a few ways to accommodate the needs of a Boomer retail customer.
Customer Behaviour or Challenge > Operating Tactic
Reduced mobility >
Wider store aisles
Loaner Scooters in store
Pick-up service for non-drivers
Enhanced carry-out, delivery, assembly
Parking lots with larger spaces
Vision or hearing challenge >
Larger fonts on price tags, receipts, labels
Viewing screens at all POS locations
Technology "readiness" >
Continue with paper bills
Offer coaching for online sales
Facilitate returns for online purchases
Operating format >
Open earlier and close earlier (7a.m. to 7p.m.?)
Shop in City A, deliver to City B (Gifts)
By no means are these inexpensive proposals, so within the older demographic Sears would have to concede cost-sensitive customers to retailers such as Walmart. The product mix could also be reduced. Many seniors no longer do their own home repairs; my father, for example, got rid of his power tools years ago. Those who need a drill will see a larger selection at The Home Depot regardless. Electronics and appliances could stay, but Costco and Best Buy are strong in these markets. Store size and related investment could shrink with a simplified product mix. Perhaps introduce a line of mobility aids.
There certainly isn't a magic bullet for Sears, and even these ideas would require examination with focus groups and a pilot test. And it may be too late: Sears could soon join the lengthening list of organizations that lost sight of their customers while markets changed around them. Until Sears picks a customer and serves her, however, the downward slope will get steeper.
Barry Cross is adjunct assistant professor at Smith School of Business and co-author, with M. Kathryn Brohman, of Project Leadership: Creating Value with an Adaptive Project Organization.