Remote Power: Helping Patients Help Themselves
A new telemonitoring initiative reduces 911 calls and hospital visits while giving patients with chronic illness the paramedic support when it's needed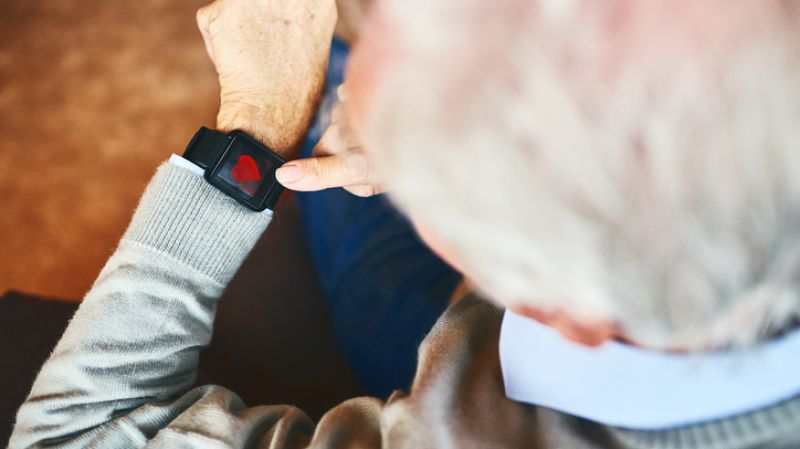 The Essentials
The Community Paramedicine Remote Patient Monitoring pilot project equipped patients suffering from chronic illness with equipment to help them monitor their own health, and connected them with paramedics when required.
The pilot program led to a 26 percent reduction in 911 calls and a 32 percent reduction in hospital admissions. The pilot ran from April 2015 to December 2017.
Patients reported feeling more empowered to manage their own care.
When it comes to healthcare, one of the biggest financial expenditures is in looking after people who have chronic – but not fatal – conditions. People suffering from conditions such as  diabetes, congestive heart failure, and chronic obstructive pulmonary disease can lead long and productive lives but often require support to stay on top of their illnesses, leading to frequent 911 calls and hospitalizations. This kind of care is a burden on the system — when healthcare already accounts for 70 percent of most provincial budgets — and can leave patients feeling disempowered.
Kathryn Brohman and her Smith School of Business research team, Shamel Addas and Jeff Dixon, hope to change that with a unique telemonitoring initiative that makes it easier for patients in remote locations to find the healthcare support they need to manage chronic conditions. The Community Paramedicine Remote Patient Monitoring (CPRPM) pilot project, which ran from April 2015 to December 2017, equipped 650 people across Ontario with technology designed to help them monitor their own health, allowing them to easily connect with paramedics when they were alerted to changes in their conditions.
"It's a project that really focuses on improvements in the healthcare system itself," says Brohman, associate professor and Distinguished Faculty Fellow in Management Information Systems at Smith School of Business. "My thinking was, how can we empower patients to self-manage their care? What can we do to help them to achieve a higher quality of life and to feel comfortable managing their condition from the comfort of their own home?"
A Digital Health Solution
Brohman led the evaluation team that assessed the benefits of the program on behalf of Canada Health Infoway, a non-profit organization dedicated to improving the health of Canadians through digital health solutions. She says that in order to be eligible for the pilot program, patients managing chronic conditions had to demonstrate a clear reliance on the healthcare system, either by having visited the hospital at least twice or having called 911 at least three times in the previous year. A community paramedic would then visit the patient at home, providing a blood pressure cuff, oxygen monitor, weight scale and/or glucometer, depending on the needs of the illness, as well as discussing the goals of the program and training the patient on how to use the technology. 
Each day over the course of the program, the patient took health readings that were automatically conveyed to a centralized network and compared against baseline levels. If a reading was unusual, a community paramedic (with different training than a primary or advanced care paramedic) would receive an automatic notification and either call the patient or do a home visit within 24 hours to assess the individual's condition.
"The original idea was that over time, paramedic feedback would help patients learn how to manage their condition so they would  generate fewer alerts," Brohman says. "We found that to be true, but we also found patients made fewer unnecessary 911 calls as they learned when their condition had exacerbated to the point that they needed to seek help. Overall, being on the program drove significant benefits for both the patient and the broader healthcare system."
Over the course of the pilot program, 911 calls went down by 26 percent, saving the health care system more than $4.7 million and providing a return on investment of 542 per cent. As well, the program saved 764 hours of paramedic time because paramedics were able to treat people in their homes rather than spending time and money shuttling people to hospital.
Creating a Feedback Ecosystem
For Brohman, whose past research has involved finding ways to help those in the hospitality sector provide more personalized service, the pilot project was an exciting shift. She got involved in the initiative after Rick Whittaker, CEO of Future Health, the company leading the CPRPM initiative, contacted Smith's Monieson Centre for Business Research seeking an evaluator with qualitative research experience.
For the project, Brohman analyzed a huge data set, including records of 911 calls and more than 9,000 notes penned by paramedics after engaging with patients participating in the pilot project. Brohman, Addas, and Dixon then analyzed data from 212 patients over 26 weeks. They found that the impact of the technology on patient outcomes depended on how paramedics interpreted the feedback from the system, and how they provided different types of feedback to patients.
"Being a technology person, I've always been interested in how data can enable coordination across traditional organizational boundaries," she says.
Brohman describes this project as unique, allowing her and her colleagues to understand the different types of feedback received. The project also reveals how goals, technology-driven data, and the information provided by the paramedics create what she calls a "feedback ecosystem" that influences how patients adapt to their conditions. Future projects will continue to explore how the collaborative nature of the data can fill gaps within the fragmented healthcare system.
"We know that telling chronically-ill patients what to do doesn't always work"
In October, Brohman and Whittaker were selected by the Council of Ontario Universities to present their findings at the MPP Public Policy Breakfast as representatives from Queen's University. While she hopes to see the widespread implementation of telemonitoring programs across Canada, she is pleased that the initiative is currently supported by a number of Ontario's local health integration networks.  In the meantime, she says those behind the pilot are working on standardizing and automating the feedback processes, making it an even more efficient system.
When it comes to patients, Brohman says the biggest challenge will be to implement the programs in a way that aligns with their goals and heightens their sense of control and autonomy.
"We know that telling chronically-ill patients what to do doesn't always work," she says.  "Using the results of the pilot project, we will design future iterations of the telemonitoring system and assess how different elements of the feedback ecosystem influence behavioural changes."
—Meredith Dault