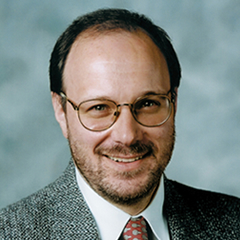 Dacin, Peter
Professor and Kraft Professor of Marketing
Peter Dacin is a Professor of Marketing. He received his doctorate from the University of Toronto in 1989.
Prior to joining Smith, Dr. Dacin spent 7 years at Texas A & M University. He is trained in consumer behavior with a strong emphasis in cognitive and social psychology. Dr. Dacin's primary area of research is judgment formation and this is a theme that runs through all of of his research. His research strategy is one of integrating his expertise on this topic into other, more applied/managerial areas of marketing. Dr. Dacin's research has appeared in several journals including the Journal of Marketing, the Journal of Consumer Research, the Journal of Marketing Research, the Journal of Business Research, the Journal of Advertising Research and the Journal of Personal Selling and Sales Management. He was recently recognized with an award for the outstanding researcher at Texas A&M University. Theoretical: Dr. Dacin's research in this area focuses on identifying how individuals form judgments about brands. The judgments he is most interested in include brand evaluations (i.e., attitudes and beliefs), and value judgments. Examples that represent this type of research include the Journal of Consumer Research article (with Andrew A. Mitchell) the Journal of Consumer Research article (with John Murry) and the manuscript currently under review at the Journal of Consumer Research (with Andrew Mitchell).
He has also authored several refereed proceedings and presented several conference papers in this area of research. In each of these publications, he was able to bring in his expertise in cognitive and social psychology to contribute to basic knowledge in judgment formation in consumer behavior. These studies also demonstrate Dr. Dacin's familiarity and ability to apply a wide variety of methodological approaches from qualitative interviews to surveys to experimentation. Application/Managerial: This stream of research makes several contributions to the literature since it attempts to introduce concepts and analyses from his cognitive and social psychology background into unfamiliar territory. For example, in the Journal of Marketing Research article (with Dan Smith) and the Journal of Marketing article (with Tom Brown), he worked with co-authors whose main areas were in marketing strategy and he was able to bring in several concepts from cognitive and social psychology, as well as his method skills, to help make some important contributions in the understanding of how marketing strategies undertaken by firms can affect consumer judgment formations. Dr. Dacin's ability to apply cognitive and social psychology concepts as well as use advanced analytical techniques is also evident in his monograph published by the Filene Research Institute: Center for Credit Union Research.
He is in the process of working on follow-up studies to several of the papers in this area. Dr. Dacin is also involved in research that attempts to understand the type of information that marketing managers consider useful in forming judgments. In an article in the European Management Journal (with Peggy Chauhdry and J. Paul Peter) they use qualitative research and analyses to investigate the perceptions and judgments of European pharmaceutical managers of the effects of European integration. This article was recently reprinted in a collection of works on international research. Dr. Chauhdry and Dr. Dacin have also just completed a longitudinal study to see how perceptions and judgments have changed since integration.
Subject: Marketing
Room: Goodes Hall Room LL142 East Wing
Phone: (613) 533-2806
Fax: (613) 533-2325
Email: pdacin@business.queensu.ca
Download CV
Download Image