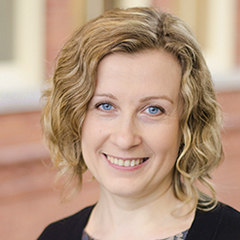 Ivus, Olena
Associate Professor & E. Marie Shantz Fellow of Business Economics
Dr. Olena Ivus is an Associate Professor of Business Economics at Smith School of Business. Her research employs both theory and empirical work to study aspects of international trade law and regulation, foreign direct investment, intellectual property protection, and research & development activity. Her work has been published in leading journals, including Journal of International Economics, Canadian Journal of Economics, Economic Inquiry, and Journal of International Business Studies.
Olena has received a Thomas Edison Innovation Fellowship for 2016-2017 from the Center for the Protection of Intellectual Property (CPIP) at George Mason University School of Law. Olena is also currently a Senior Fellow at the Centre for International Governance Innovation (CIGI). Olena has a PhD. in Economics (2009) from the University of Calgary.
Prior to joining Smith in the Summer of 2010, Olena was an Assistant Professor at the University of Prince Edward Island, and attended as a Visiting Researcher at the Institute of Economic Research, Hitotsubashi University. In 2010, Olena won the World Trade Organization (WTO) Essay Award for Young Economists.
Specialty: International Trade, Intellectual Property, Applied Microeconomics
Subject: Business Economics
Room: Goodes Hall Room 412 West Wing
Phone: 613-533-2373
Extension: 32373
Fax: 613-533-6847
Email: oivus@business.queensu.ca
Download CV
Download Image