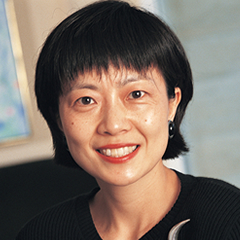 Bu, Nailin
Associate Professor
Nailin Bu is Associate Professor of International Business at School of Business, Queen's University in Canada. She is a native of Shanghai, China and received her B.Sc and M.Sc training in China at Fudan University and Shanghai Jiaotong University. She completed her Ph.D. at the University of British Columbia in Canada, and taught at the University of Victoria in Canada prior to her current appointment.
Dr. Bu specializes in international business, cross-cultural management, management in China and the Asia-Pacific regions, and international human resource management. She has received research funding from the Social Sciences and Humanities Research Council (SSHRC) of Canada, CGA-Canada and other agencies. Her research has appeared in many scholarly publications, including International Journal of Human Resource Management, Asia Pacific Journal of Management and International Journal of Cross-Cultural Management. Her current projects include several studies exploring the networking practices of senior and middle-level managers in China, the determinants of voluntary turnover among managers and professionals in China, and Chinese consumers' retail store choice behaviours.
Dr. Bu has extensive collaborations with colleagues in China and Taiwan and travels frequently to these locations. Her experience in East Asia informs her teaching in various subjects of international business, including doing business in Asia, cross-cultural management, international business strategy and country analysis.
Specialty: Cross-Cultural Management, Asia-Pacific,
Subject: International Business
Room: Goodes Hall Room 278 East Wing
Phone: (613) 533-2332
Fax: (613) 533-6847
Email: nbu@business.queensu.ca
Download CV