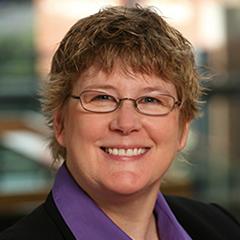 Murphy, Pamela
Associate Professor & E. Marie Shantz Fellow of Accounting
Pam completed her PhD in 2007 at the University of Wisconsin-Madison. She holds a Masters of Management in Marketing from Northwestern University's J.L. Kellogg School of Management and a Bachelor of Science in Business, major in Accounting from the University of Minnesota. She is a Certified Public Accountant in the State of Illinois. She brings with her many years of experience as an auditor, controller, marketing manager, and management consultant.
Pam's research interests involve the social psychological aspects of reporting and auditing, particularly when economic and psychological forces are at odds. She is keenly interested in the psychological aspects of fraud and ethics. Her current work examines the fraud triangle and factors that help predict fraud. Her work is published in top accounting and business journals, including Accounting, Organizations and Society; Contemporary Accounting Research and Journal of Business Ethics.
At Smith, Pam teaches auditing, fraud in organizations, and Ph.D. seminars in experimental / behavioural accounting. She has also taught introductory financial and managerial accounting, intermediate accounting, and marketing courses at several universities in the United States.
Specialty: auditing, fraud, management accounting
Subject: Accounting
Room: Goodes Hall Room 423 West Wing
Phone: 613-533-3260
Extension: 33260
Fax: (613) 533-6589
Email: pamela.murphy@queensu.ca
Download CV