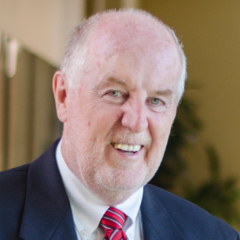 McConomy, David
Adjunct Assistant Professor & Director of the Graduate Diploma in Accounting Program
David J. McConomy graduated with an MBA from Queen's University, with a major in Finance and Accounting in 1969, after receiving a BA (Econ) from Loyola of Montreal. After qualifying as a Chartered Accountant with Arthur Andersen in Toronto, his thirty year career has focused mainly on the Finance and Accounting requirements of small to medium sized businesses.
He has gained considerable experience assisting young companies, mainly in the technology field, in strategic planning and corporate finance. As Chief Financial Officer of Systemhouse Ltd. (which was later sold to MCI and subsequently to EDS), he was instrumental in the process of taking that company public. During his tenure with Systemhouse, revenues rose from $16.5 million to in excess of $100 million.
While acting as Vice President Finance on a contract basis with Antares Electronics Inc, he assisted in raising $20 million (through venture capital investments, sale and leaseback transactions and restructuring bank lines of credit) to enable the company to become one of Profit Magazine's fastest growing companies, as revenues increased over a three year period from $36 million to $100 million. Most recently, he assisted ComentiX Computer Systems Inc. to become a public company and to raise funds from a variety of sources to funds its growth.
Mr. McConomy has taught accounting and financial management (at the undergraduate and MBA levels) on both a full time and part time basis at University of Ottawa, Queen's University and, internationally, in association with the Academy of Economic Studies in Bucharest, Romania.
Subject: Accounting
Room: Goodes Hall Room 214 West Wing
Phone: (613) 533-6000
Extension: 78361
Download CV
Download Image