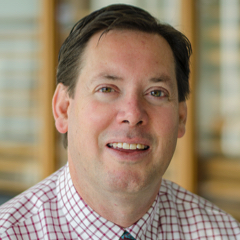 Kissick, Peter
Adjunct Associate Professor & Distinguished Faculty Fellow of Business Law
Kissick, Peter - Distinguished Faculty Fellow of Business Law - Associate Professor of Law and Ethics, Smith School of Business.  Lecturer in the Queen's Faculty of Law.  Peter Kissick holds both an LL.B and an LL.M degree from Queen's University Faculty of Law.  
Professor Kissick has practiced in the field of business law since 1990, more specifically in the areas of securities law, banking, intellectual property and most recently electronic business and business start-ups.
For the past 17 years, he has taught business law in the undergraduate Commerce and MBA programs at Smith School of Business. He is also currently teaching the Commerce Program's Ethics and Corporate Social Responsibility course. In the Faculty of Law, Professor Kissick has taught various courses, and has been a Lead Instructor in Queen's Law's introductory course in law for undergraduate students. He is also the Past Director and of the Queen's Business Law Clinic, which he founded in 2009.  Professor Kissick has received faculty awards for his teaching, as well as several nominations for university-wide teaching awards at Queen's.  He is a past Director of the Smith Commerce Program.  Since his call to the Ontario Bar in 1990, Mr. Kissick has practiced as an associate at the Toronto law firm Smith, Lyons, after which he joined the in-house legal department of The Toronto-Dominion Bank. Currently, in addition to his work at Smith, he has his own consultative business law practice in which he specializes in providing advice to smaller entities at various stages of their growth, and he has participated on the advisory boards of several companies and organizations. Professor Kissick is a member of the Law Society of Upper Canada and the Ontario and Canadian Bar Associations.
Specialty: Law
Subject: Business Ethics
Room: Goodes Hall Room 212 West Wing
Phone: (613) 533-3202
Fax: (613) 533-6847
Email: pkissick@business.queensu.ca
Download CV
Download Image