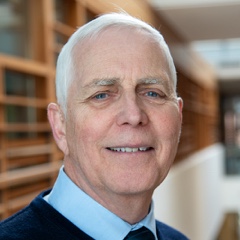 Boland, George
Adjunct Assistant Professor
Mr. George Boland is currently the Associate Director, CPA-Queen's Centre for Governance and an Assistant Professor at Smith School of Business where he has taught accounting for over 20 years. During his time with the School, he has won a number of awards for his contributions to student life.  He was also the Associate Director of the Commerce Program from 2001 to 2012.
Prior to coming to Queen's, George spent 11 years in Calgary, Alberta working for Schlumberger of Canada, Peter Bawden Drilling Limited and Clarkson, Gordon Chartered Accountants.  While in Calgary he also qualified for the CMA designation and taught part-time at the University of Calgary.
George has served as the treasurer and on the boards of a number of not-for-profit organizations. George holds a BA and an MSc in Physical Geography, both from Queen's.
Subject: Accounting
Room: Goodes Hall Room 428 West Wing
Phone: (613) 533-6297
Extension: 36297
Fax: (613) 533-2316
Email: gboland@business.queensu.ca
Download CV
Download Image