There are more socially impactful jobs out there than you may think.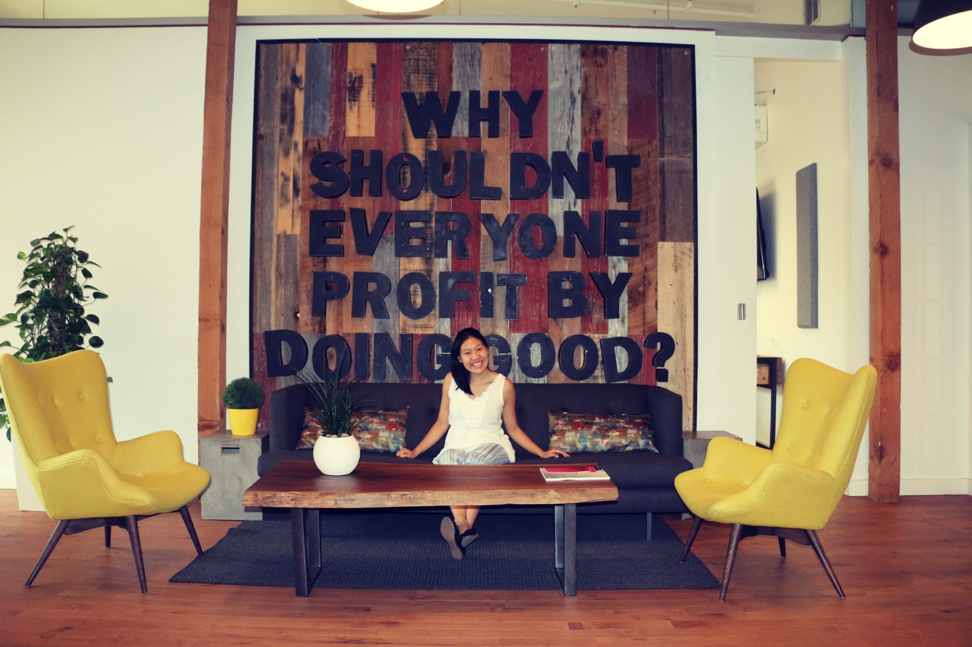 There was a phase of a few months in my third year at Queen's University when I was applying for jobs - endlessly looking and applying for any opportunities in the marketing space to sharpen my skills and experience. 
But deep down, I knew what I desired.
I wanted work that would make a difference in someone else's life. I wanted to make social change.
Maybe I can make a change when I gain skills after working for major marketing companies, and I can then apply my skills to a non-profit? This is a method, but there are definitely more ways to find a socially impactful career as well.
I found a job in the Queen's Quest career portal from Public Inc. (PUBLIC), a social impact marketing agency that aims to make profit with purpose. The business focuses on transforming businesses to integrate social purpose into their operation, and amplify the social efforts that businesses have done into the work place. 
This exists?
I was in disbelief by the time I read the job description, it was everything I was looking for. 
It turns out that the job opportunity was part of an internship program run by Good & Well, a venture capital firm that invests solely in social purpose businesses to make a more purposeful, sustainable economy for all.
It offered internships from businesses they invest in such as:
            -Lucky Iron Fish: A social enterprise supplying iron cooking tools that tackle the issue of iron deficiency in both developed and developing nations.
            -Ulula:A software to develop more responsible global supply chains.
            -CoPower:CoPower is an online platform that simplifies clean energy investing. 
They provided students the ability to gain business experience and make meaningful social impact on the job.
On the job: Client & Research Intern at Public Inc.
I poured my heart into my application and interview, and landed a position as a Client & Research Specialist summer intern. 
My work consisted of performing research to support strategy development in implementing marketing campaigns and social programs that businesses wanted to implement. It was amazing that every project that I was involved in dealt with making our communities socially equitable and just. 
An amazing project from the team, was with developing Body Shop's "Forever Against Animal Testing" movement to lobby the Canadian government for the ban of animal testing. It gained government involvement as the proposed bill, Bill S-214, which is the Cruelty-Free Cosmetics Act, was passed by the Senate and moved forward to the House of Commons in an attempt to become a law. 
I was also involved in the internship program where four of the PUBLIC interns and I worked on developing marketing research, strategy, and creative work for one of Good & Well's partners, Lucky Iron Fish.
I benefited from working with really cool Publicans (the employees) who came from interesting backgrounds such as work in the United Nations, television broadcast directing, and government. 
The culture of the company also challenged everyone to think more about how we as individuals can collectively make a grand change:
Our team initiated a plastic-free challenge for the month of July, where weekly goals to limit our plastic use were set ending with the point of zero-waste 
We had weekly status meeting to learn about the current projects 
I participated in an internship program that had bi-monthly lunch and learns on social impact spaces such as social finance
The trend for more businesses to be socially impactful
Consumers are becoming more conscious of what goes behind products and services, especially with the rise of social media use and the ease of information flow. Businesses are pressured to push their boundaries in being socially responsive to remain competitive. 
So where can you find social impact opportunities?
Good & Well plans to organize summer internships! More information will be provided soon!
 B-Corps: There is a growing community of businesses that take the initiatives to be certified to do good in their business operations!
Update on current social impact journey
Through this summer experience, I found my deep desire to be involved in making social impact in the healthcare sector. There are major inefficiencies in Canada's healthcare system, and I want to be involved[CW5] in areas of population health, quality improvement, and healthcare innovation spaces. 
My challenge to you
There are many ways to pursue socially impactful careers. It begins with asking questions and discussing with those who are currently in the space on how to get there. Don't settle on comfort, and stretch yourself to find a place that truly, truly makes your heart skip a beat and makes you feel like it is worth doing even though you may be staying up at 2am.
Written by Janet Song, BCom 19'