Student Volunteer Outreach Experience
Posted on October 30, 2017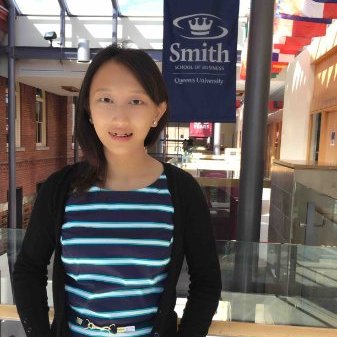 The Centre recently reached out to Jennifer Lo, a Commerce student at Smith School of Business who is working towards her Certificate in Social Impact. Jennifer spent a portion of this past summer volunteering in Singapore with a variety of organizations, with these hours counting toward the volunteer requirement for the Certificate program. Jennifer provides below an insight into her volunteer outreach experience and what impact her involvement in the Certificate program has on her future. 
Tell us about your volunteer outreach experience.
Volunteering in Singapore for the last month of my summer has been one of the most rewarding experiences I have had in a long time. This past month I have volunteered with various organizations including Singapore Heart Foundation, National Kidney Foundation, YMCA, Bright Vision Hospital, Heritage Cares, Bethany Methodist Nursing Home, Thye Hwa Kwan Hospital and many more. I participated in a variety of activities ranging from large roadshow public events to small cooking events in a nursing home. 
What inspired you to contribute to so many organizations in Singapore?
I wanted to meet and help as many people from all walks of life as possible. It was nice interacting with people who have different needs, backgrounds, and experiences in life. I also wanted to be exposed to a variety of situations and gain a diverse array of skill sets. For example, by volunteering in a hospital, I was trained on how to operate and manoeuvre a wheelchair and communicate with the patients. By doing large roadshow events with Singapore Heart Foundation, I was able to reach out to the grassroots community and educate people about cardiovascular health through games and activities with an added bonus of meeting some local celebrities, of course!
What role(s) were most significant to you?
The most significant role I had was working with YMCA in the YSTARS program where I interacted with people who have Down's syndrome. I brought them out to museum excursions, as well as facilitated art classes. Their positivite attitude towards life and their energy is really contagious and really inspired me to be a better person. Seeing how their families work so hard to support them and how patient and determined they are with their children also touched me and showed me how much love someone can give to another person.
What were your key takeaways?
Volunteering gives me perspective on a side of the world that I had rarely interacted with before. It made me more aware of the privilege that I have as well as the hardships some people have to face in their lives.
The experience inspired me strive to be a better person, a more grounded person with a bigger heart.  
My trip made me rethink the meaning of life and what my purpose in life is.
Describe a defining moment during your experience.
A defining moment was when I met the main organizer of the YSTARS program, who is also a mother of a child with Down's syndrome. The mother talked about the reason why she started the YSTARS program and how she has endured subtle discrimination and looks from strangers whenever she took her son out to public and he had a fit. She wanted to raise awareness about Down's syndrome and not let people like her son be misunderstood. She also wants to help families with a Down's Syndrome child, so that they can raise these children to achieve independence in adulthood. She also wants to fight for them to have equal opportunities in life whether it be in career, daily judgments and so on. I think her story is inspiring and I can see the passion and dedication that she has to help people with Down's syndrome and other special needs.
Why did you enroll in the Certificate Program?
At first, I thought it would be a good addition to my Commerce degree. I thought it would be good to learn how I can make an impact in different industries. In the end, I am glad I enrolled since I am able to become more in touch with humanity and come to understand that there are more important things in life.
How did this volunteer opportunity impact your experience in the program?
This opportunity allowed me to made me step outside of the Commerce bubble and made me a more complete and well-rounded individual. 
How has being in the Certificate Program impacted your Smith experience?
The Certificate has made my experience at Smith much more meaningful. I attended conferences where I have met people who are passionate about how social responsibility and sustainability can make an impact in their industry. I also participated in a Bootcamp [Social Innovation Bootcamp] where I was able to help create and pitch a business idea within 24 hours. All this with teammates who I've never met before and in the end, we placed 3rd in the competition.
Has this experience inspired you to do more?
Yes, I definitely want to be more involved in my community. I plan to continue volunteering in the community at least once a week during my free time. In the future, I aspire to own my own business, where I would like to establish positions within the organization for people with special needs.
Tags: