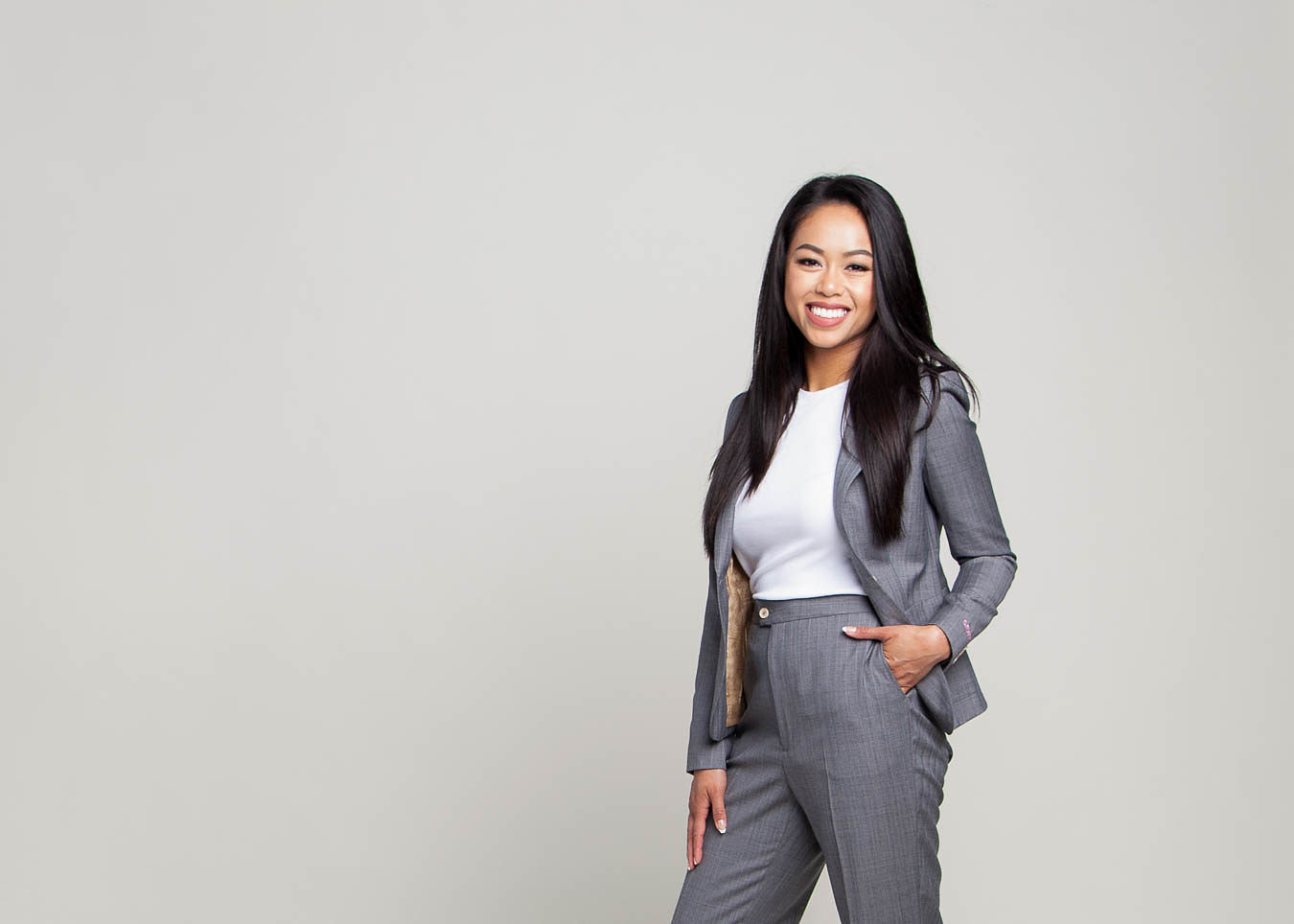 For students in the Accelerated MBA (AMBA) program at the Smith School of Business, the Certificate in Social Impact offers education, exposure, and experience in the world of social impact, enterprise, and innovation. For AMBA 2019 graduate, Luan Tolosa, the Certificate was also a catalyst for the ideation and successful launch of her social enterprise, SEWT – Suits Especially for Women Tailored. 
SEWT, which is entirely female-founded and operated, crafts made-to-measure suits for women and focuses on initiatives that help empower women to grow professionally. Similar to many entrepreneurial ventures, SEWT was born when an idea, timing, and ideal conditions for execution collided.
In 2018, Luan began AMBA with a background in commercial real estate. Though she had little exposure to corporate social responsibility before entering the program, she elected to take the Certificate in Social Impact to diversify her knowledge and skillset. The requirements of the Certificate, along with Luan's classes in Ethics, Strategy, and Entrepreneurship, helped her recognize how to marry profit and purpose in business. In particular, Michael Darling's Ethics course encouraged Luan to think about responsible leadership.
"The combination of the Certificate in Social Impact along with my Ethics class got me thinking about the purpose of companies…Is it solely to make a profit or can it also be a vehicle to do something better for the planet?" Luan says.
Complimentary to the thought-provoking course work in Ethics, Paul Chipperton's entrepreneurship course required students to create a business and pitch it as a project. It was during this time that Luan made a simple observation: there are less made-to-measure corporate clothing options for women in comparison to choices available to men.
"My female classmates and I noticed that we were still buying our clothes from the same places that we did in undergrad," Luan explains, "We realized that there were plenty of professional, suiting and custom options for men, but not for us."
With this observation buzzing in her head, the coursework driving her to research and brainstorm potential solutions, and a little convincing of her AMBA team, Luan began investigating the fashion industry for women.
This research into the fashion industry revealed that the clothing production methods of today are not only wasteful but also cause extraordinary and devastating amounts of pollution. Conversely, the 'slow fashion movement' focuses on shifting consumption from a rapid, unsustainable model, to a more deliberate, high-quality production and consumption framework.
Using 'slow fashion' principles in her business design, Luan integrated sustainability and gender equality as two essential parts of SEWT's mission. 
"There's an opportunity to bring awareness to the problem of fast fashion," Luan says, "We can transform the way clothes are designed, sold, and used, to break away from the disposable mindset when it comes to clothes."
After applying her research and business design to her Entrepreneurship project, Luan realized that there was potential for SEWT beyond her time in her MBA.
"Following the pitch in the entrepreneurship class, I ran a pilot program with AMBA," she says, "And by the time December 2018 came, I had some sales, funding, a company on paper, and momentum, so I decided to keep going," she says.
After officially launching in May of this year, Luan is excited about the future of SEWT. She has plans to partner with organizations which support women's equality and career advancements, as well as environmentally conscious clothing production methods.
Already, SEWT ensures that the operations use a little waste as possible.  Additionally, Luan is already looking at ways to improve sustainability through the customer and product lifecycle. 
"We're looking into textile recycling to understand what to do with returns, recycling, and using sustainable materials," she says.
Through her experiences in AMBA and the Certificate in Social Impact, Luan feels well-equipped to continue her journey with SEWT and is excited to grow the venture and foster new opportunities.
"Before [AMBA and the Certificate in Social Impact], I was just a consumer," Luan says, "Now I get to run a business while being supportive of people and the planet."
 Written by Marina Darling, Program Assistant | Centre for Social Impact
Thanks to Luan Tolosa (AMBA '19) for sharing your experience with the Centre for Social Impact. Are you a student who has a social impact story to share? Reach out to Marina at csi@queensu.ca