An Inspirational Afternoon with Andrea Nemtin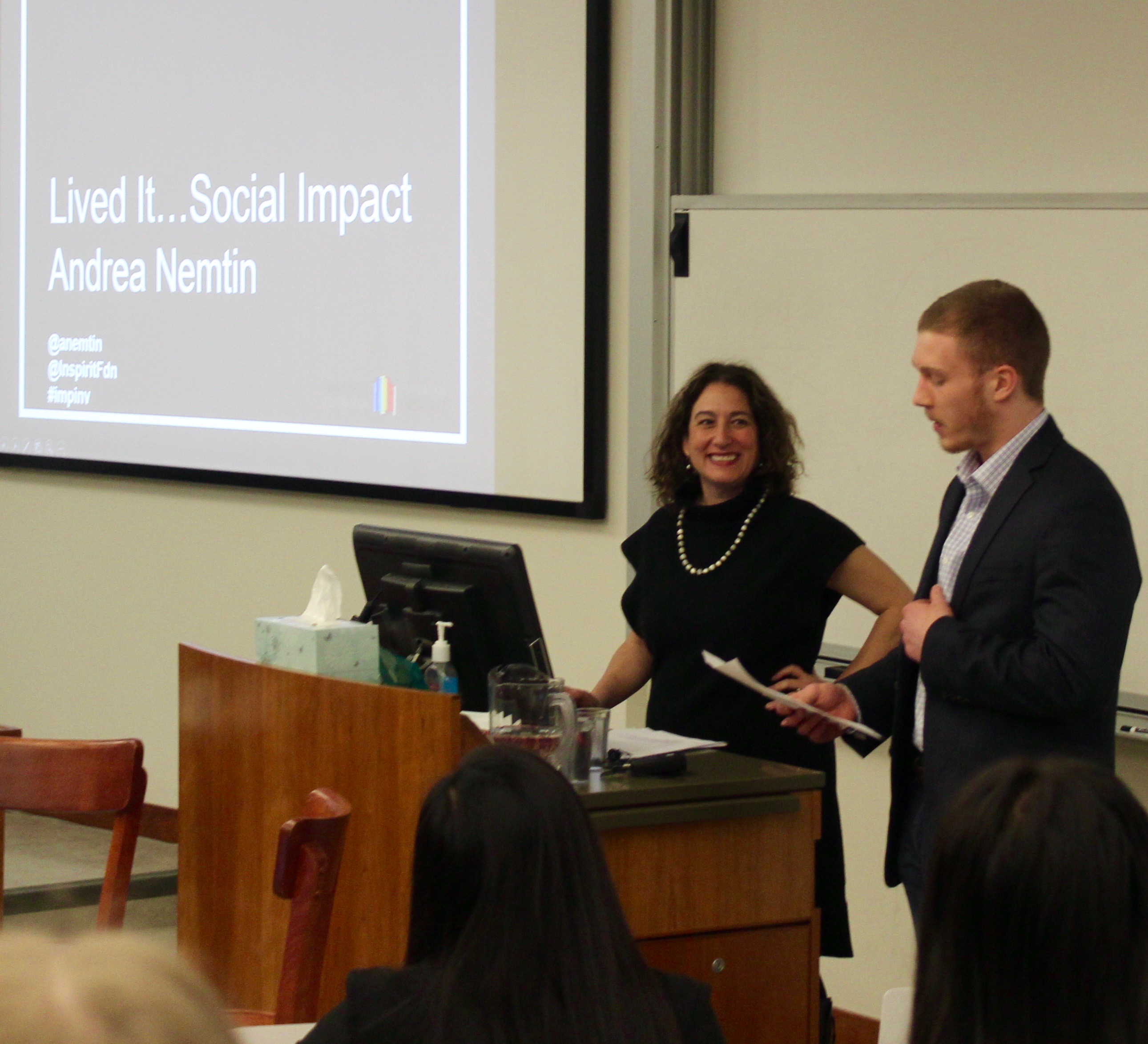 Article by Ryker Richard, Student Director of Values-Based Leadership
"You need to be aware of burnout. It's so hard to work with a social focus and make profit. Making money is easy. Doing both requires a lot of dedication."
Andrea Nemtin, the current CEO and Founding President of Inspirit Foundation, is one of the most intelligent people I have ever met. I had the opportunity to speak with her personally, after her presentation at Smith on April 6th, and to be quite honest, even her simplified attempt at explaining her algorithm for impact investing went over my head.
However, despite my lack of technical knowledge, Andrea captured my interest from the moment she began presenting. She shared with us her journey towards social change, and inspired me to pursue my boldest dreams. What impressed me most was her non-traditional path to success, and her ability to be so honest and genuine when speaking about social impact.
To briefly recount her life story, Andrea grew up in Vancouver during the 1970's. Her parents, and the climate of that decade, inspired her to get involved in activism and stand up to the corporate giants. Her first involvement was with Adbusters, an advertisement production agency with a goal to disrupt and bring light to the false advertisements portrayed by some big companies. Andrea's work brought her to the forefront of the Clayoquot Sound Rainforest dispute in British Columbia, which after heavy protests became a UNESCO Biosphere Reserve.
After a short time, Andrea realised she was not an activist. However, she still wanted to support the people who were, as she believes activists are the backbone of social change. So, she took on the role of CEO at PVT Productions, producing documentaries to make audiences more aware of pressing social issues around the world. After 15 years in the industry, she decided it was time to move forward, and advanced to Inspirit Foundation.
Andrea wanted to create a 100% impact investing portfolio, so she pitched her idea to the Board of Directors and they bought in. Subsequently, Andrea had to create a framework for a mission and vision related to impact investing and then fully commit Inspirit Foundation to it. Eventually it was decided that any associated investments would need to contribute to one of these four themes: Livelihoods, Climate Change, Healthy Communities, and Culture & Diversity.
Beyond her work at Inspirit Foundation, Andrea also chairs Artscape Youngplace, and is a board member for The Circle on Philanthropy and Aboriginal Peoples, the Center for Social Innovation Charity, Challenge for Change, and Story Money Impact. She explained that despite this busy schedule, she is able to manage her time because of her support system.  Andrea encouraged us, "what is it that you're good at and can do? Stick to it. Really believe in incremental change. That will allow you to generate momentum and create success. Have a strong foundation and community that understands what you're doing and is willing to support you."
As I listened to Andrea tell her story, I wondered if she felt she had more of an impact while working as a producer or with Inspirit Foundation. So I asked, which role did she feel demonstrated more social impact? She said that she certainly is more hands-on with Inspirit Foundation, and in this role she provides significant support to individuals who are catalysts for change.
A 100% impact investing portfolio is one of the main goals of Inspirit Foundation, and is without a doubt the hardest to attain. How can you balance the double bottom line? The financial goal is obviously to earn enough money to support your operational costs. The impact goal is to use your capital to make an impact above what grants and subsidies can provide. But the question is, how can you achieve one without sacrificing the other?
Essentially, companies and business leaders need to shift the way they think. They need to look beyond the traditional investing model and focus on changing their model to impact the double bottom line. Once this cultural and tactical shift occurs, we will begin to see astronomical changes in the business world.
Andrea explains her perspective on impact investing today, "You need to build the alternative, rather than take down systems. It's a systematic challenge. There isn't the training or pathways which allow you to do this with ease. Once we create this model, there can be a visible transition, hopefully inducing more buy-in." Andrea hopes that the success of her business will help guide other companies in Canada who want to follow suit.
So how does this all relate to me?  Even though I likely won't pursue impact investing as a career, Andrea's presentation resonates with me because of its overarching themes.
The first is that you don't need to conform to any standard career path. All you need to do is get a good education and then follow your interests.
The second theme is that you need to develop your network to create lasting relationships. Andrea accredits much of her success to the support system she has created over the years.
The third theme is to be a visionary. If you just want to work and make money, that's great. But if you want to make money and effect social change, don't let anyone tell you it's impossible, no matter how difficult the path may be.
Finally, stay persistent. It may be challenging, but if you believe in incremental change, you can be inspired to grind through all the difficulties and work towards something great.
So, I thought Andrea's presentation was truly inspiring. Andrea is successful, honest, and enlightening and it was great that she was able to share with us her insights into operating within the social space.