Save the date! Social Innovation Bootcamp: March 12, 2016
Posted on January 14, 2016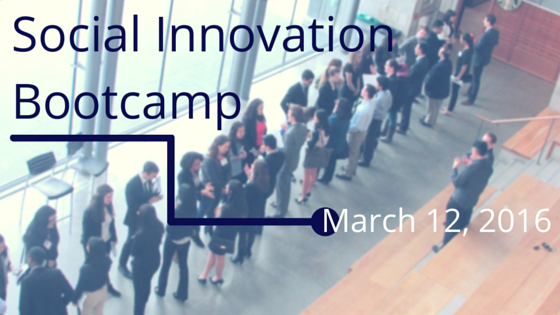 The 4th Annual Social Innovation Bootcamp is fast approaching, so be sure to mark the date.
This inspirational day of social innovation skill-building will help you turn your ideas for impact into action. During the hands-on two part workshop learn how to rapidly develop and test ideas before launching and then develop the knowhow to turn that knowledge into viable social business models!
Participants will leave knowing how to use design thinking to tackle problems, develop impactful and effective solutions, with a clear sense of how their business goals and social impact objectives support each other.
See what past students have said about the Social Innovation Bootcamp:
"I learned so much! This workshop ignited a passion for social innovation - Bravo!"
- Albert Oppenheimer, Queens MBA 2016
"Great workshop with extensive collaboration and networking opportunities."
- John Sibbald, Queen's Commerce 2018
"The Social Innovation Bootcamp combined igniting my passion with developing tangible skills. I feel prepared to continue becoming a social entrepreneur."
- Kristen Macmillan, Civil Engineering 2017
"The energy and passion in the room was contagious. I learned a lot and appreciated the great discussions with my team."
- George Henry, EMBA 2016
Check back regularly – online registration open soon!