QSB Centre for Social Impact welcomes James Temple, Chief Corporate Responsibility Officer, PwC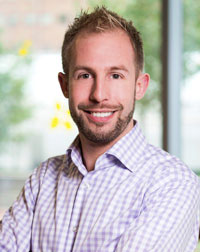 It's true across industries – environmental and economic considerations (and a few other "megatrends") will continue to transform which leadership capabilities will distinguish top level executives of the future.  But what does this mean for you?
James Temple leads the Corporate Responsibility strategy at PwC Canada and provides oversight to ways the firm is embedding social, environmental and economic integrity into the fabric of its business.  He's considered one of Canada's leading voices on corporate social innovation and speaks internationally about how businesses and communities can work together to use their skills, voices and relationships to become catalysts for change.  He's been featured in articles and videos for TED, the Globe and Mail, Forbes, Strategy Magazine and Canadian Business. In 2012, he was named one of the world's top CSR practitioners by the Centre for Sustainability and Excellence and was an inaugural Notable.ca Young Professional of the Year.
The QSB Centre for Social Impact is pleased to be hosting James for a presentation and discussion around Purpose-Based Leadership. 
Join us on Monday May 18th at 7:00pm in the Donald Gordon Conference Centre.
RSVPs are appreciated (but not required), at CSI@queensu.ca.