IBM Canada | Smith Cognitive Computing Centre
On March 23, 2017 IBM Canada and Smith School of Business launched a cognitive computing demonstration centre at Smith's downtown Toronto campus. The Centre is the first facility of its kind at a Canadian business school.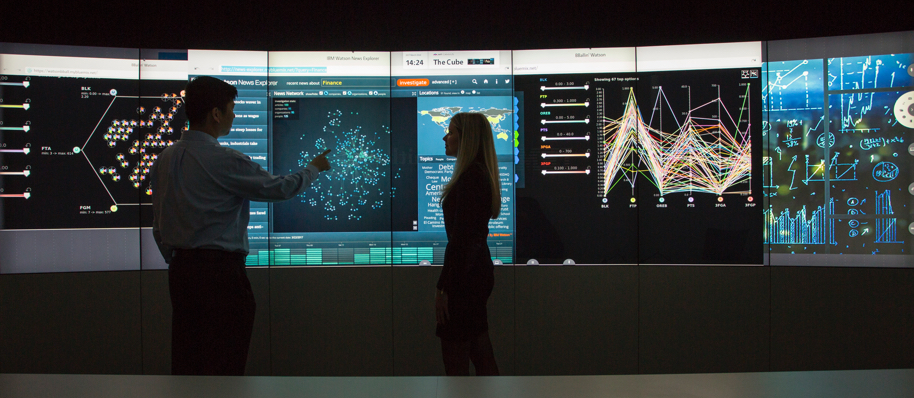 Overview
The Centre is designed as a collaborative space that provides an exclusive artificial intelligence demonstration experience for IBM clients and partners in Canada. Smith students and faculty have access to cognitive and cloud technologies to enhance the learning, teaching, and research environment.
The Centre consists of seven interactive wall screens for clients and students to work directly with IBM technologies in a multi-media environment. Under this five-year collaboration, IBM is providing a number of annual internships for Smith students, providing real-world opportunities to work with IBM Watson technologies in a business setting.

What is Watson?
Watson is an artificially intelligent computer system capable of answering questions posed in natural language, developed in IBM's DeepQA project by a research team led by principal investigator David Ferrucci. Watson was named after IBM's first CEO and industrialist Thomas J. Watson. Cognitive computing is the secret sauce that makes Watson special among supercomputers. Not only does it interact with people in a more natural, human-like way, but it can learn. Watson ingests vast amounts of information and helps its users quickly pinpoint issues and opportunities and answer myriad questions.
In 2011, Watson made its international splash by unseating the "Jeopardy" television quiz show's brilliant human champion, Ken Jennings. It's now hard at work in the field, solving problems, finding relevant research and applying its vast resources to enterprises large, medium and small.
What is Cognitive Computing?
Cognitive computing is the simulation of human thought processes in a computerized model. It involves self-learning systems that use data mining, pattern recognition and natural language processing to mimic the way the human brain works. It is used in numerous artificial intelligence (AI) applications, and is closely associated with Watson - IBM's cognitive computer system.
Learn more