Queen's Venture Network
Take Your Shot at $60k in Funding
Smith Centre for Business Venturing and Queen's Venture Network (QVN) presents Virtual UPstart Venture Challenge, a pitch competition designed to accelerate success and give alumni and students the opportunity to deliver creative business plans to a panel of experienced judges. Event attendees, including potential angel investors, will also be given a chance to take an advance look at up-and-coming Queen's/Smith entrepreneurial ventures.
Looking to Compete?
UPstart is a global competition, extending the invitation to compete with our network worldwide. The competition is open to Queen's faculty/staff, alumni, or a full/part-time student enrolled in an academic program at Queen's University. Entrepreneurs will have four minutes to pitch to a panel of expert judges on why they deserve $60K in funding! Your business should be beyond the MVP and entering the start-up stage and has gained market traction (customers/revenue). See application guidelines for complete details.
Watch the Action
Register to join us online for an evening of exciting pitches as the top eight teams battle it out in the 'virtual arena'.
Details
Tuesday, December 6, 2022
5 – 7:30pm (EST)
Live virtual stream
Complimentary
Agenda - All times EST
Tuesday, December 6, 2022
5:00pm
Welcome and Introductions
5:10pm
Top Eight Finals - Pitch Competition
6:45pm
Judges Deliberations
6:45pm
People's Choice Voting + Break
7:15pm
Winner(s) Announcement
7:25pm
Event Wrap-up
7:30pm
UPstart'22 ends
Criteria to Submit
Your venture should be in the start-up stage (well beyond ideation). Pay close attention to the conditions for applying.
Bring an emotional attachment to 'why should we care,' and 'how will this make life better' for the target market
A clear explanation of the product or service and the pain point you are solving and answers the 'so what.'
Show your research (market validation) to date — how do you know?
The opportunity and solution (i.e. why is now the right time for this business)
The TAM/SAM/SOM
Your target market (i.e. size, structure, archetype)
Your competitive advantage(s)
CRITICAL - The economics of the business should be included – e.g. business model, COGS, profit margins, the unit price, contribution margin, revenue to date, etc.
The value proposition of your team
The ask!! Why are you pitching to the judges (i.e. how will you use money)
Sources of funding – how you are funding the business now
Show all additional finances raised
Rules and Guidelines
To enter, you must be the founder, co-founder or have an equity share in the business and a Queen's faculty/staff, alumni, or full/part-time student enrolled in an academic program at Queen's University
One submission per individual or company is permitted
Applications should be submitted by completing the one-page Lean Canvas document. A four-minute video pitch presentation (with presenter visible durinng the slideshow) must accompany the canvas
Submissions are protected in the spirit of non-disclosure, and all materials will be treated as confidential. Only judges and select members of the organizing committee will have access to submissions. Materials will not be distributed to any others without the written consent of an entrant team. No other provisions are made to protect intellectual property.
Closing Date for Applications – Friday, November 11, 5:00pm (EST)
Download Lean Canvas
Download guidelines
Application Process
The application process is detailed in the application guidelines. Please read carefully.
Elspeth Murray
Associate Professor & Associate Dean of MBA and Masters Programs; and Director - Centre for Business Venturing (CBV) and CIBC Faculty Fellow in Entrepreneurship
Elspeth Murray has served as the Associate Dean - MBA and Masters Programs since 2012, and has been a professor of Strategy and Entrepreneurship at Smith School of Business since 1996. She also holds the CIBC Fellowship in Entrepreneurship, and founded the Smith Centre for Business Venturing. Prior to joining Smith, she worked in industry for 7 years for several firms including IBM, and Canadian Tire.
As an integral part of her work in the strategy and new venture fields, Dr. Murray specializes in the management of change. In 2002, she co-authored a best-selling book, Fast Forward: Organizational Change in 100 Days, Oxford University Press, with Dr. Peter Richardson. She has recently co-developed (with Dr. David Saunders) the Analytics Climate Assessment Tool (ACAT), which is used to assess organizations technological capacity, skill sets, and analytics culture. Current research is focused on best practices in leading and managing change to create an analytics culture.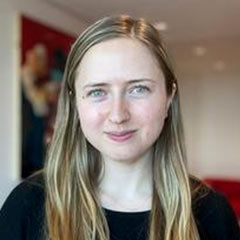 Kelly Thomson, BCom'16
Co-founder, QUIL
Kelly is one of the co-founders of QUIL. QUIL works with eCommerce brands to eliminate packaging waste with reusable & returnable packaging. She launched QUIL through a national partnership with Canada Post, and they have since expanded to ~15 brands and thousands of orders across Canada. Before QUIL, Kelly spent five years at Bain & Company, working with Fortune 500 companies to optimize their supply chains and leading the firm's Canadian Social Impact team.
Dave Jackson, BCom'91
President & CEO, Jacuzzi Group Worldwide
Dave Jackson's growth inside Jacuzzi® Brands was a swift and steady upward climb. After the acquisition of Hydropool Inc., Dave was brought into Jacuzzi® in the Spring of 2019 as Executive Vice President, Strategy and Business Development. Later that year, on December 18th, 2019, he was appointed President of North America. Dave's tenure at Hydropool Inc. before selling to Jacuzzi® Brands in June of 2017 was over two decades. Hydropool, under Dave's leadership, became Canada's largest manufacturer of Hot Tubs and Swim Spas, it was the largest industrial manufacturer outside of the USA and the second largest portable swim spa manufacturer globally, distributing through over 350 dealer partners in 40 countries. Before Hydropool, Dave worked four years at Procter and Gamble in marketing and brand management. Dave graduated with a Bachelor of Commerce from Queen's University's School of Business in 1991, where he was honoured to win the Comm'74 Award, the Commerce Award and the Bews Award. Dave loves Entrepreneurs, and he has over 25 Angel Investments, providing capital, advisory services and support to dozens of Entrepreneurs in Canada and the US. He values frank and passionate discussions on growing business and enjoys mentoring people and helping them meet their full potential.
Chris Bryson, BCom'06
Founder & CEO, New School Foods
Chris is the Founder & CEO of New School Foods, a VC-backed startup that makes whole-muscle meat alternatives. Previously, he was the Founder & CEO of Unata, which Instacart acquired in 2018. New School Foods uses a proprietary technology to produce whole-muscle cuts of seafood that look, cook, taste, and flake like fish. The company has been selected as a semifinalist in the XPRIZE's Feed the Next Billion competition. Chris is also an angel investor.
Meredith Cartwright, BA'87, Law'91
Managing Director, DonBow Capital
Meredith Cartwright, LLB (Queen's University), MTS (Harvard), ICD.D (Rotman UofT), is the Managing Director at DonBowCapital Corporation www.donbow.com and High-Level Capital Corporation. She invests in early-stage businesses and manages a public equity portfolio. Meredith has over three decades of experience as a business lawyer and private investor. She has experience raising money and structuring capital infusions and exits. Her sector experience includes digital media -commerce, finance, alternative energy and resource exploration. She is an original shareholder in Dye and Durham.
She has served on a public company board for alternative energy, as well as a Crown Corporation (healthcare) and not for profits boards (human rights). She co-taught a course for Entrepreneurs at OCAD University with Intellectual Property Rights lawyer Tim Gilbert. Before teaching at OCAD University, Meredith taught undergraduate courses at the University of Toronto. As a human rights lawyer, she successfully sued OMERS and changed the Ontario Pension Benefits Act to include same-sex spouses. Meredith maintains a dynamic network of experienced private investors and professionals in Canada and the US. Learn more about her philanthropy.