The Team
Elspeth Murray
Dr. Murray is a professor of Strategy and New Ventures at Smith's School of Business. Dr. Murray holds a B.Sc. in Computer Science and Mathematics and an MBA degree from Queen's University. Her PhD was completed at the Richard lvey School of Business at the University of Western Ontario.
Prior to joining Queen's in 1996, Dr. Murray spent several years in business. Her first job as a software developer for Canada Systems Group was followed by several years as a Systems Engineer and Marketing representative for IBM Canada. More recently, she was also involved in 3 successive and successful Canadian Tire dealerships.
Dr. Murray has spent much of her time at Smith School of Business building the school's slate of new venture-related courses and programs. ln 2006, she created the first university based, student led venture capital fund in Canada, the Tricolour Venture Fund. She also launched the school's entrepreneurship centre, the Queen's Centre for Business Venturing for which she is currently the Director. Her goal through these activities is to 'improve the odds of success' for Canadian entrepreneurs. In 2005 and again in 2008, she was awarded a Fellowship in Entrepreneurship from CIBC in recognition of her work in the new ventures area. From a research perspective, as an integral part of her work in the strategy and new venture fields, Dr. Murray also specializes in the management of change. In2002, she co-authored a book, Fast Forward: Organizational Change in 100 Days, Oxford University Press, with Dr. Peter Richardson. It has enjoyed several years on the Canadian Business list of top l0 business books.
In addition to her teaching and research activities, Dr. Murray is an active consultant for both private and public sector organizations, and across many industries. She has worked extensively with a diverse clientele which includes the Auditor General for Canada, BMW Canada, Glaxo-Smith-Kline and the Ontario Realty Corporation, to name a few.
Dr. Murray currently serves on several boards. She was the Vice-Chair of the Ontario Research and lnnovation Council, set up by the Premier in 2006 to provide advice on the Innovation Strategy for Ontario that was launched in May of 2008. She is a Director for PARTEQ Innovations, the commercialization organization for Queen's University. She sits on several advisory boards, including Lawtons Drugs, a subsidiary of Sobeys.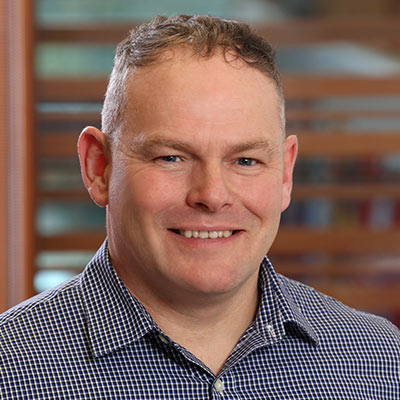 JP Shearer
JP Shearer is Associate Director of the Queen's Centre for Business Venturing (QCBV) at Smith School of Business, Queen's University in Kingston, Ontario. Creating a vision to be a global leader in educating and accelerating the success of entrepreneurs, intrapreneurs, and innovators, JP works closely with the Associate Dean to develop and execute on the overall strategic direction, planning, and budgeting towards the success of QCBV.
JP has spent much of his time at Smith School of Business dedicated to the development of excellence in people through coaching and mentoring. In addition to his current role, he is an academic advisor to the Full Time MBA, MBA Americas and Executive MBA programs (New Venture Creation, Management Consulting projects, and Global Business Strategy teams) as well Lead Mentor to the Master of Management, Innovation, and Entrepreneurship program. JP leads the Queen's Venture Network initiative, a group dedicated to bringing Queen's students and alumni together in the spirit of entrepreneurship and innovation, with a focus on knowledge sharing, collaboration, and idea generation. JP continues to be a business advisor to the Faculty of Health Sciences, School of Rehabilitation Therapy program, and a volunteer mentor to many other community groups in Kingston.
Prior to moving to Canada from his native Scotland, JP was Assistant Director (Academic Support Services) at the University of Glasgow where he designed and developed Strategy and Programming across a number of business units. Before taking a position at Queen's University, JP spent 6 years with Kingston Economic Development Corporation (KEDCO) as Director of Business Development. In his role at KEDCO, he led a dedicated team responsible for developing a 5-year Strategic Plan around business attraction, retention, and expansion within the City of Kingston. This involved working with senior levels of municipal, provincial, and federal Government to develop relationships and initiate funding support for Kingston businesses and capital development projects.
JP has sat on many boards and committees including City of Kingston Affordable Housing, Sustainable Kingston, Board Director of SWITCH (clean teach and alternative energy group), and the Leadership Board for Town/Gown relations.
JP holds an Executive MBA (2003) from the University of Glasgow, Scotland.