Become a Consultant
Smith Business Consulting (SBC) offers students a unique opportunity to gain practical skills and knowledge related not only to the field of consulting, but any professional service, such as accounting, finance, marketing, real estate, and law.
By joining SBC you will also be joining a great network of SBC alumni, working globally for some of the best-known professional service organizations and consulting brands.
Opportunities and Rewards
As a SBC consultant you have the rare opportunity to:
Make a positive impact for a business, its owners, and the community
Gain experience in a professional firm environment - very different from a club or a course project
Boost your marketability for potential employers based on measured and managed professional standards
Obtain Summer Program employment - open only to past SBC consultants
Become a SBC student manager - open only to past SBC consultants
Access our dedicated office in Goodes Hall
The Program
The course operates in a fashion mirroring the management, standards and processes of a professional services firm. SBC helps our clients address business challenges in a number of different ways, such as developing and improving strategic plans, developing marketing strategies, implementing market research, and evaluating financial feasibility.
There are no formal classes, but regular meetings are held in place of class time to discuss client progress, methodological challenges, and to review and rehearse client presentations and decisions regarding key client deliverables.
Once selected for the course, students sign a contract outlining duties as well as personal learning and experiential objectives. Consultants are evaluated by their clients and the director.
Application Process
Entrance and registration for SBC (Comm 504) is by application only. Applications start approximately 1 month prior to the next school term oe summer. The application process is announced on the Commerce Portal, SBC Facebook page, and Twitter. Applications require a letter of interest, CV, and a copy of your current transcript.
Depending on the number of applications, we aim to interview all candidates. The interviews are group-based and focus on testing analytical skills as well as behavioural fit. There is also a real-time written communications task.
Please note: You DO NOT have to be registered on SOLUS to apply. We do recommend selecting a complete course load in case you are not selected for the program.
What We Expect
SBC, otherwise known as Comm 504, is an independent study course. Both project and client based, the course is very rewarding, but demanding. Students will apply and improve skills related to the delivery and management of professional services through the integration of subject matter from previous courses.
Desired consulting attributes include technical skills such as analytical, writing, and presentation skills, as well as administration and project management effectiveness. Soft skills evaluated include engagement and contribution to the firm, leadership, team effectiveness/collaboration, professionalism, and client relationship management. Considerable emphasis is placed on the success of the client engagement, as judged by both clients and the director.
Questions? Feel free to contact the director at cem10@queensu.ca.
Career Benefits
Our consultants have been hired by McKinsey & Company, RBC, KPMG, Goldman Sachs, Accenture, BCG, Deloitte, and PwC.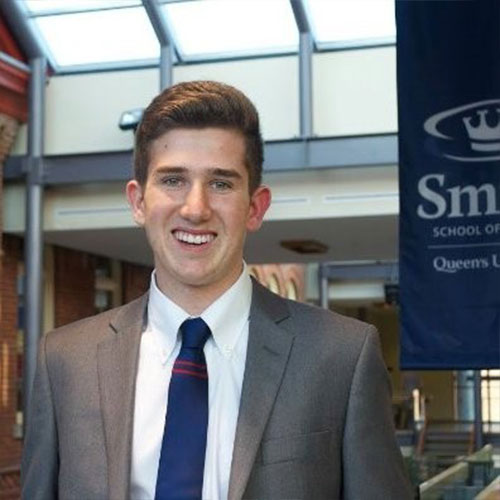 "SBC is a fantastic opportunity for undergraduate students to gain insight into solving real-world business problems. By engaging with clients, leveraging program resources and collaborating with teammates, students quickly learn how to tackle ambiguity and frame solutions effectively. Under the leadership of Prof Mignault, SBC provides a semester of ownership and growth, and should be seriously considered by anyone looking to become a more effective consultant, marketer or business problem-solver."
David Gouws
BCom'18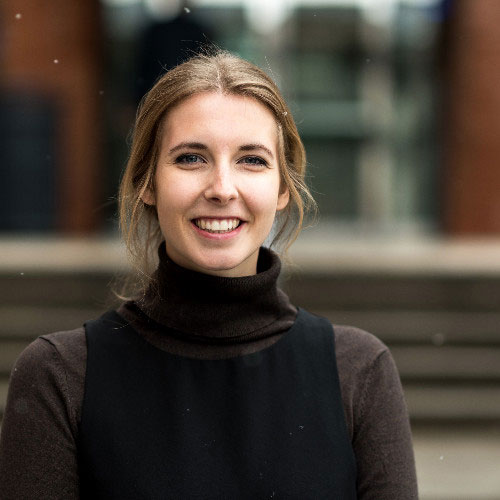 "With Smith Business Consulting, I had an incredible opportunity to really think. To think deeply, critically, and with greater freedom than most traditional learning environments. The autonomy of Smith Business Consulting allowed me to challenge my intellectual curiosity, and assume roles within our project that I once believed were outside my capabilities. The connections I developed with my colleagues, with our client, and with the Kingston community continue to stay with me long beyond Smith. Definitely a highlight."
Fiona Windrim
BCom'18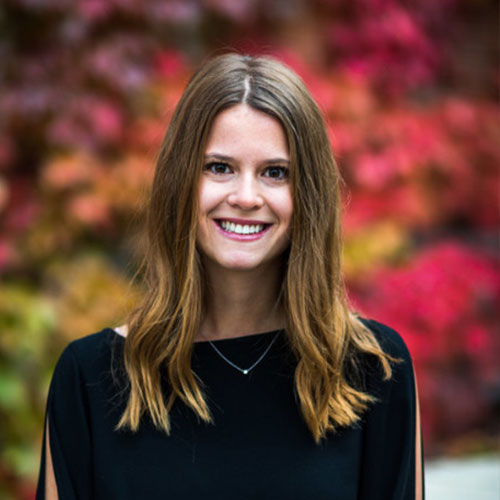 "I joined SBC as a Consultant in the Fall 2018 semester. My team and I worked with a local, newly founded not-for-profit seeking to open a healthcare facility in Kingston. We were tasked with creating a 5-year business plan, financial plan, and feasibility assessment and presentation materials. Throughout these 12 weeks, I quickly learned how to communicate with clients and my peers, develop key recommendations and ultimately, how to apply what I was learning in the classroom to a legitimate problem. Smith Business Consulting is a unique, and perhaps the only opportunity on campus for students to truly develop these "soft skills" and deliver tangible and meaningful results in a real-world setting. As a Manager for SBC 2018-2019, I recognize the wide variety of projects and clients that we work with every day. From market-research to feasibility assessments, to core business plans or operational plans, we truly do it all."
Julia Yach
BComp'18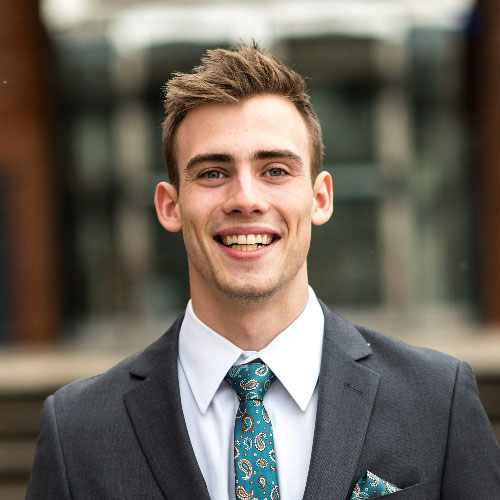 "SBC provided me with a unique opportunity to apply my in-class learnings to real-world problems and make a tangible impact on the Kingston community. Being able to work with some of the brightest students from Commerce, Engineering, Arts or Computer Programming opened my eyes to diverse perspectives and fostered a cross-collaboration mentality I use in my professional career today. If anyone has an opportunity to take this course, I would highly encourage them to do so as SBC was one of the most challenging, yet rewarding experiences during my time at Smith. Don't miss this experience."
Connor Emeny
BCom'18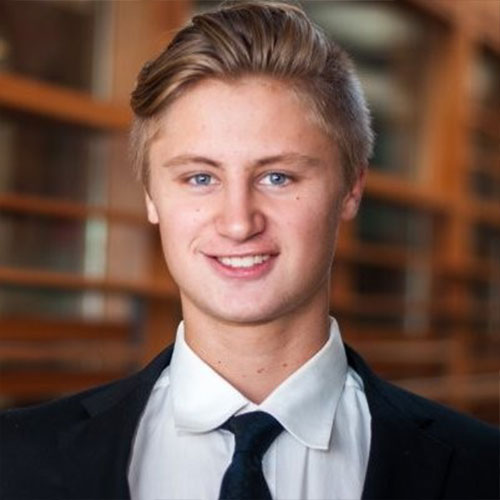 "SBC was an amazing way to differentiate my skillset in the commerce program. The opportunity to work on a real business problem outside the classroom and make a real impact on a client was extremely valuable, challenging and rewarding. I would highly recommend the program to anyone interested in consulting."
Ethan Sylvester
BCom'19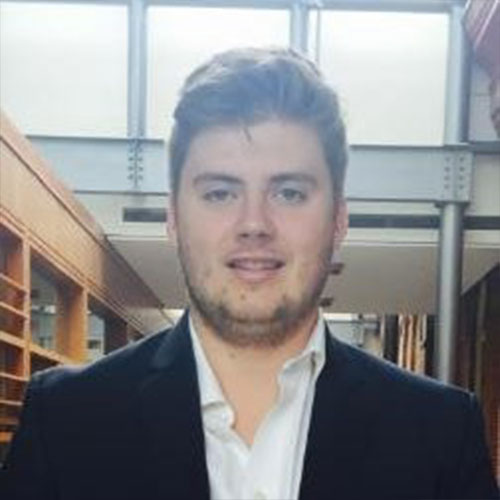 "Smith Business Consulting is a fantastic real-world opportunity for upper year Commerce students. It allowed me the opportunity to apply what I learned in the classroom in helping a local business overcome a variety of different obstacles and challenges. From client-relations to conflict management, SBC sets you up with skills and experiences that will assist you in whichever field you choose following your time at Smith. Not to mention, you'll get the chance to work alongside and form worthwhile connections with your clients, managers and fellow students. I highly recommend getting involved with SBC."
Jordan Bezanson
BCom'18