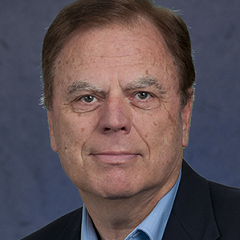 Tom Kinnear, a long-time member of Smith School of Business Advisory Board, has had a prosperous academic career. He holds a Commerce degree and LLD from Queen's University, an MBA from Harvard, and a Ph.D. in Business Administration from the University of Michigan. Currently, he is Eugene Applebaum Professor of Entrepreneurial Studies, Executive Director of the Samuel Zell and Robert H. Lurie Institute for Entrepreneurial Studies, and Professor of Marketing at the University of Michigan Business School.
A proud Queen's graduate, he is happy to give back to his alma mater. Tom was a major benefactor in the creation of Goodes Hall. His donation supported the construction of a 70-seat classroom theatre.
In addition, Tom has worked closely with Smith School of Business, particularly the Centre for Business Venturing. In 2001, he met with Dr. Elspeth Murray, Director of the program, to discuss the creation of the TriColour Venture Fund - a fund that gives students the opportunity to invest real money in new ventures. Inspired by the University of Michigan's successful Wolverine investment fund, a program that Tom has been involved with since its 1998 conception, the TriColour Venture Fund is the first of its kind in Canada - and Tom has generously donated the seed money to get the ball rolling.
"It is important that business students be trained to evaluate new ventures for funding, and this is best accomplished through real hands-on experience under mentors," Tom says.
Tom's career is marked by his understanding of and appreciation for the importance of entrepreneurship and venture business. He is involved in the entrepreneurial community as a co-founder, advisor, angel investor, and Board member of several startup companies.
Small businesses and new ventures play a key role in the Canadian economy. Around 95% of our nation's businesses employ fewer than 50 people, and 38% of Canadians employed in the private sector work for these small companies. Unfortunately, up to around 70% of new ventures fail within 5 years.