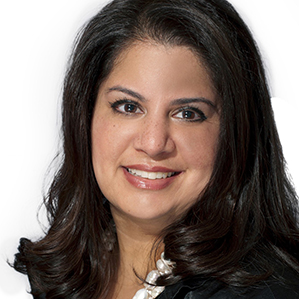 EY's Transaction Advisory Services ("TAS") advises clients on growth and value creation by focusing on their capital and transaction strategy realized through execution.
Nadine Mirchandani brings more than 25 years of experience advising in the financial services sector and is focused on leading large complex corporate and private equity M&A transactions and divestitures. In her firm leadership role, Nadine sets strategy in connection with markets, talent and operations, serves on leadership committees and is responsible for delivering business unit results.
Nadine also holds a TAS global industry leadership role and is responsible for overseeing the global relationship with one of firm's largest global financial services accounts.
Nadine has worked extensively in the US, Canada and the UK, and has client and transaction experience that includes Western Europe, Asia and various Latin American countries. Nadine is a frequent speaker and contributor on topics relating to financial services, M&A, Fintech and leadership.
Nadine is a CPA, a member of the AICPA as well as a Canadian Chartered Professional Accountant and a member of CPA Canada and CPA Ontario. Nadine is a graduate of Queen's University at Kingston, Canada.
Nadine is a member of the Board of Directors of City Harvest, a non-profit organization focused on food rescue and in 2016/2017 was selected to be a David Rockefeller Fellow.