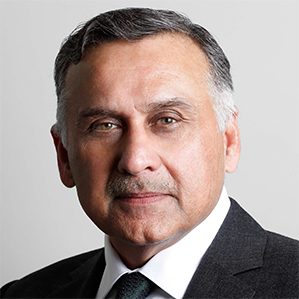 Mr. Humayun Rashid is one of the senior most advisors in the field of consumer banking strategy, leadership development and organizational transformation in international markets. After successfully serving as the CEO of regional consumer banking at Commercial International Bank (CIB), Egypt, Mr. Rashid served as their Senior Advisor on Leadership Development. He also serves on the Advisory Council of Halkin Investments (UK) and provides advice in the areas of strategic business development.
In 2017,Mr. Rashid accepted the role of an advisor for Eurobank's retail business transformation in Greece. He is also a council member of the Financial and Business Services Council of The Gerson Lehrman Group (GLG), New York. He now divides his time between assignments in the MENA Region, Greece, UK & Canada.
He brings with him over 30 years of diversified experience in consumer banking & commercial operations, and has worked in about 10 countries across the world. He served in various regional & country specific positions in Citibank & ABN-AMRO in Singapore, USA, Canada, Pakistan and Saudi Arabia. Later on he also worked with Mashreq Bank in Dubai and in Oman with National Bank of Oman as GM & Head of Consumer Banking. His key focus has been value creation in strategic business transformations and integration initiatives.
Mr. Rashid has a proven track record in transforming, restructuring & leading organizations through change. He has implemented multiple strategic change management initiatives in record time in various institutions such as the ABN.AMRO Canada and LaSalle integration project. On the business side, he has developed solid business lines in the areas of wealth management, investments, bancassurance, consumer loans, business banking and cards business. In addition to that, he has also successfully rationalized branch banking and alternate channels, and developed initiatives to significantly improve segment specific sales and service quality. The key aim of such initiatives is to achieve profitable market share along with the development of a high service quality culture.
Mr. Rashid holds an MBA and he is currently associated with Queen's University as a member of the Global Council of the Queen's School of Business. He has also shared his knowledge with various educational institutions and as such has held the position of Advisory Board Member for UAE University and Higher Colleges of Technology (UAE) and he has been a guest speaker at the American University in Cairo (AUC). He has a passion for developing leadership talent at all organizational levels. He invests a lot of formal and personal time in mentoring & coaching the "leaders of tomorrow".