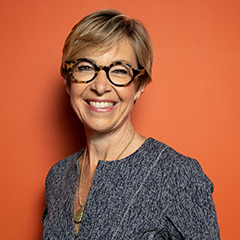 Brenda Trenowden CBE is a Partner in PwC UK's Workforce Strategy and Culture consulting practice and leads on Inclusive Culture, Diversity and Purpose. She advises clients on all aspects of workplace performance and has a particular focus on helping her clients to achieve better business performance by improving both the diversity and inclusiveness of their workforces. In her role as Global Chair of the 30% Club, Brenda has worked with Chairs, CEOs and leaders around the world and has been recognised with several awards for the results she has achieved through campaigning for greater gender balance. She is an advisor to the UK Government's Hampton-Alexander Review for increasing the representation of women on Boards and in the executive level of the FTSE 350 and a companion of the Chartered Management Institute. Brenda is a regular media commentator and has contributed to a number of books on Inclusion and Diversity. She was listed as one of the 100 Most Influential Women in Finance for 3 years running and in 2018, was awarded a CBE in the Queen's Birthday Honours List for services to the financial sector and gender equality. She was also listed as the FT HERoes number one Champion of Women in Business 2018 and in the Summer of 2019, was awarded an Honorary Doctorate by Queens University in Canada.
Brenda has more than 25 years of experience in capital markets, investment and relationship banking, with sector expertise in financial services. Prior to joining PwC she led the Financial Institutions Group in Europe for ANZ Bank and was a member of their UK Management Board. She has also worked for a number of global financial institutions including BNY Mellon, Lloyds Banking Group, BNP Paribas, Peregrine and Citi.
Brenda is the Senior Independent Director for the England and Wales Cricket Board and also a Trustee for the Royal Marsden Cancer Charity.