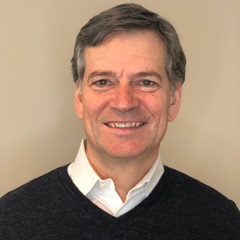 Jeff Carney joined Charles Schwab & Co. in April 2012 as Executive Vice President of Branch Network Services. Prior to that, he was Senior Managing Director and Head of Global Marketing and Products at Putnam Investments where he was responsible for Putnam's Defined Contribution business, Global Product Management, Public and Government Relations, Global Marketing, and Marketing Communications. He has over 25 years of investment and financial services experience.
Prior to joining Putnam Investments in 2008, Mr. Carney was President of Retirement & GWIM Client Solutions at Bank of America, a role in which he oversaw the delivery of a range of services to individual and institutional clients.
From 2001 to 2007, Mr. Carney served in a number of senior roles at Fidelity Investments, including President of Fidelity Retirement Services, President of Fidelity Personal Investments, and President of Investments Canada. From 1992 to to 2001, Mr. Carney held senior-level positions with Toronto Dominion Bank, including Executive Vice President for Retail Distribution; Executive Vice President of Retail Banking Products, Marketing and Brand Management; President of TD Evergreen Investments; and Director of Mergers and Acquisitions at TD Securities. Before joining Toronto Dominion Bank, Mr. Carney held positions with Company Assistance Limited, Jim Patterson Group, and Merrill Lynch Canada.
Mr. Carney is a member of the New England Council and the YPO-WPO. He also currently serves on the Children's Hospital Board of Overseers in Boston, is a founding member of The Boston Golf Club, and serves on the advisory board for Smith School of Business, Queen's University in Kingston, Ontario. He is a graduate of Queen's Bachelor of Commerce program.