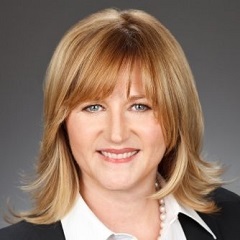 Maryann joined Brookfield Asset Management in 2020. She continues as a senior advisor to the National Football League, after serving as COO since 2018, where she led the marketing, communications, HR, international, technology, events and club business development organizations.
Prior to joining the NFL Media Group as President in 2017, Maryann was President of Bell Media from 2015-17, where she successfully led Canada's largest media company and was responsible for their flagship television channels and annual revenues of more than $3B (CAD). She spent 12 years at Bell Canada, where prior to being named President of Bell Media she served as Group President, Media Sales, Local TV and Radio, where she leveraged Bell Media properties and brands across all platforms to support their strong position in the competitive marketplace.
Prior to her time at Bell Media, Maryann was Executive VP, Field Operations for Bell Canada. In that role, she was responsible for the construction and management of Bell Canada's telecommunications services, including all of their residential and business customers. Previous to that, she was Vice President, Customer Experience, Small Medium Business, responsible for customer service operations, sales support, and IT functions.
Earlier in her career, Maryann was a partner and member of the Board of Directors at Codesta LLC, a software consultancy group that specializes in enterprise applications and solutions.
Maryann serves on the boards of Royal Bank of Canada, SickKids Foundation, Toronto Argonauts GP Inc., and Greenwood College School, and is Chair of the Smith School of Business Advisory Board at Queen's University. She was named to the Women's Executive Network's list of Canada's Most Powerful Women: Top 100 in 2009, 2010, 2012, and was inducted into its Hall of Fame 2013. In 2015, she was named Woman of the Year by Women in Communications and Technology. She holds a Bachelor of Civil Engineering and an MBA from Queen's University in Kingston, Canada, and a Master of Engineering from the University of Toronto.