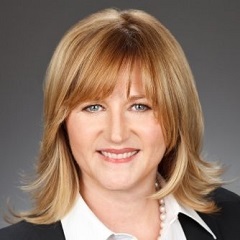 Mary Ann became President, Digital Media and NFL Network in February 2017, where she is responsible for leading the operations of the NFL Network, as well as overseeing NFL owned and operated media assets including NFL Films, NFL Digital and NFL.com. Mary Ann also oversees digital product development and executes against the NFL's content strategy and roadmap.
Previously, Mary Ann spent 12 years at Bell Canada, where she was President of Bell Media from 2015-17. Prior to that, she served as Group President, Media Sales, Local TV and Radio, where she leveraged Bell Media properties and brands across all platforms to support their strong position in the competitive marketplace.
Prior to her time at Bell Media, Turcke was Executive Vice President, Field Operations for Bell
Canada. In that role, she was responsible for the construction and management of Bell Canada's telecommunications services, including all of their residential and business customers. Previous to that, Turcke was Vice President, Customer Experience, Small Medium Business, responsible for customer service operations, sales support, and IT functions.
Mary Ann is on the board of the SickKids Foundation, Toronto Argonauts GP Inc., Greenwood College School and Queen's Smith School of Business Advisory Board. She holds a Bachelor of Civil Engineering and an MBA from Queen's University in Kingston, Canada, and a Master of Engineering from the University of Toronto.