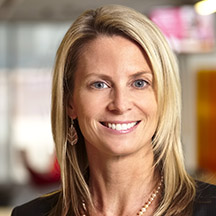 Leigh Chalmers is a Partner in the assurance practice working at PwC in the Toronto office. She has a broad range of experience providing audit and advisory services to the financial service industry. Leigh has spent over 20 years servicing clients in the insurance industry and has worked in all areas of insurance from Property and Casualty insurance to Life and Health insurance and reinsurance.
Leigh is a member of PwC's Accounting Advisory Services group at the forefront of the IFRS issues facing the insurance industry. Leigh also leads are national IFRS insurance working group focusing on the business implications of the new insurance contracts standard. Leigh has involvement in a number of other initiatives related to the insurance industry including being an advisor to the Insurance Bureau of Canada, Financial Affairs Committee.
Leigh has experience developing and delivering internal and external courses and presenting to various associations in the insurance industry. Most notably, Leigh is responsible for the development and delivery of an annual 3-day Life insurance accounting course offered to the industry. Leigh is also involved in the delivery of a number of other accounting related courses for LOMA including the Insurance Immersion course which is focused on financial and risk management.
Leigh has been a speaker at a number of Canadian Insurance Accountants' Association events, the 2016 IBC financial affairs symposium; 2016 Canadian Insurance Financial Forum; and the PwC Insurance EyeOpener Series.
Passionate about diversity and inclusion, Leigh assumed the role of Chief Inclusion Officer in 2015. In this capacity, she oversees the firm's vision to foster a fair and inclusive environment that embraces different ideas, perspectives and experiences, and where everyone can develop to their full potential without barriers. Leigh believes that successfully making a difference to the firm's people, clients and communities relies on leveraging the richness of the diverse talents that we as individuals bring. She is an advocate of PwC's Women in Leadership program and an active mentor and role model within the firm.
Engaged in her community, Leigh served as a Director for the Canadian Children's Book Centre for 6 years—using her financial expertise in her role as the Board Treasurer and to support and advise the management of the charity. Most recently, she joined the Granite Club Board of Directors. Leigh will bring her financial expertise and board and NPO experience to this board. She is a past Chair to the Advisory Board for PwC's Charitable Foundation, during which time she guided the management of the Foundation team and the strategic plans, and monitored and evaluated the Foundation's conduct, directions and results in accordance with the corporate objectives.