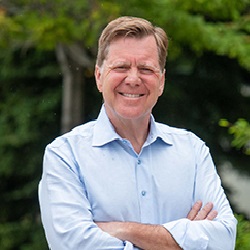 Jay Wright is one of Constellation's executive vice presidents and president of Constellation Brands Canada reporting to Rob Sands, chief executive officer. Jay is responsible for overseeing the domestic and international sales, marketing and operations of our award-winning Canadian portfolio and Canada's leading Wine Company.
Constellation Brands is a leading international producer and marketer of beer, wine and spirits with operations in the U.S., Canada, Mexico, New Zealand and Italy. Constellation is the third-largest producer and marketer of beer for the U.S. and the world's leading premium wine company. The company boasts a powerful array of wineries in Canada including Jackson-Triggs, Inniskillin, Sumac Ridge, See Ya Later Ranch and NK'MIP Cellars. Some of the company's other well-known brands include Robert Mondavi, Ravenswood, Clos du Bois, The Dreaming Tree, Black Box, Simi, Kim Crawford, Nobilo, Ruffino, the 2016 acquisition of The Prisoner Wines as well as Black Velvet Canadian Whisky, Paul Masson Grande Amber Brandy and Svedka Vodka.
Jay joined Constellation Brands in 2006 as president of Vincor International Inc., acquired that year by Constellation. Jay's previous Constellation roles include executive vice president and president of the global Wine & Spirits business (2010-2016), where he was instrumental in leading the business on a premiumization growth strategy and the acquisitions of luxury brands Mark West (2012), Casa Noble Tequila (2014) and Meiomi (2015).
Before joining Vincor, Jay held the role of vice president and general manager at Borden Foods USA. Prior to that, he was director of innovation at Molson and spent 10 years at Nabisco building brands such as Oreo and Del Monte. Jay, a native of Montreal began his career in marketing at Procter & Gamble in Toronto.
Jay currently sits on the Boards of the Canadian Vintners Association and The California Wine Institute. Jay is a past Board member of Opus One and Ruffino Srl.