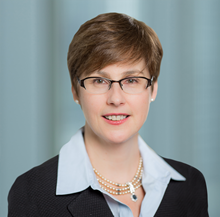 Candace Shaw is Senior Managing Director and Portfolio Manager, Private Fixed Income for Sun Life Investment Management Inc. She will be the portfolio manager for the Sun Life private fixed income funds with responsibility for the management and performance of the funds.
Candace is also Senior Managing Director and Portfolio Manager, Private Fixed Income for Sun Life Assurance Company of Canada where she oversees a team of 42 professionals in Canada and the United States. The team manages one of the largest private fixed income portfolios in North America, comprising private debt, mid-market loans, project finance loans and private securitizations across a variety of industries.
Candace joined Sun Life Financial in 1987, quickly progressing from credit risk analyst and bond trader to senior portfolio management positions in the company's Canadian, UK and Corporate operations. Candace gained significant experience in addressing Sun Life Financial's invested asset portfolio and other credit-related activities leading investment teams and governance functions.
As Chief Credit Risk Officer, Candace led a team of credit, asset liability management, and market risk professionals responsible for a credit portfolio of approximately C$110 billion and a real estate portfolio of approximately C$8 billion. Under Candace's leadership, the team adjudicated and approved the ratings of all private and public fixed income, commercial mortgage and real estate transactions, and conducted annual ratings reviews (on a risk-adjusted sampling basis) ensuring high underwriting and risk management standards.
Prior to her role as Senior Vice President and Chief Credit Risk Officer, Candace was also Senior Managing Director, Portfolio Management and International Investments. In this dual role, Candace was responsible for developing portfolio strategies and best practices for Sun Life Financial's worldwide invested assets, as well as overseeing the company's international investment operations. Candace also led the Public Bond group of over 45 investment professionals across North America responsible for credit research, money market and bond trading, as well as portfolio management, derivatives and hedging strategies. This group managed a portfolio of approximately C$60 Billion for the Canadian, U.S., UK, and Hong Kong businesses.
Candace holds a B.A. in Mathematics and an Honours B.Sc. in Chemistry from Queen's University. She obtained her MBA in Finance from Queen's University in 1987. Candace received her Chartered Financial Analyst designation in 1991 and is a member of the Association of Investment Management and Research and the Toronto Society of Financial Analysts.