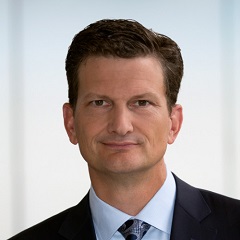 Bill Thomas is Chief Executive Officer and Senior Partner of KPMG in Canada. In this role Bill provides leadership and direction for the firm's business across Canada.
Originally from Vancouver, BC, Bill completed his Bachelor of Science at the University of British Columbia in1989 and achieved his Chartered Accountant designation in 1992.
Bill began his career with KPMG in Vancouver in 1990. He has served as audit engagement partner to some of KPMG's largest clients in many industries, including Intrawest Corporation, the Belkin family and the Mark Anthony Group. He served as Audit Leader for the firm's Greater Vancouver practice, where he managed a staff of 450, and was appointed Office Managing Partner in 2006.
Bill relocated to Toronto in 2007 to serve as KPMG's Deputy CEO, and was appointed the firm's Chief Executive Officer and Senior Partner on January 1, 2009. In addition to his leadership role in the Canadian firm, Bill is a member of KPMG's Americas Board and Global Executive Team.
Bill is a past recipient of Business in Vancouver's Forty-under-Forty award, which recognizes BC's top 40 outstanding young entrepreneurs, executives, managers and professionals.
Active in the community, Bill currently serves on the Board of the Toronto Symphony Orchestra and is a member Toronto Board of Trade and the Canadian Council for Chief Executives. He is a past director of British Columbia's CA School of Business, the BC Business Council (BCBC), and Arts Umbrella, a fine arts school for children. He also chaired the Finance Committee of the 2006 World Junior Hockey Championships.
Bill is a dedicated family man with three children. He and his wife Bronwen support three World Vision Children, each who are the same age as their three kids. Sponsoring these children has been a fulfilling experience for the whole Thomas family and he is happy he can make a difference in the lives of children in the developing world.
Bill's family enjoys spending their summers on Saturna Island, in the BC Gulf Islands. As an environmentally aware resident, he invested in an extensive rain water collection system to reduce the damage to the aquifer caused by extensive community pressure on the well. Bill and his family are committed to doing what they can to assist our fragile ecosystem.
Bill Thomas is an outstanding leader and his values reflect KPMG's commitment to its clients, people and communities it serves.